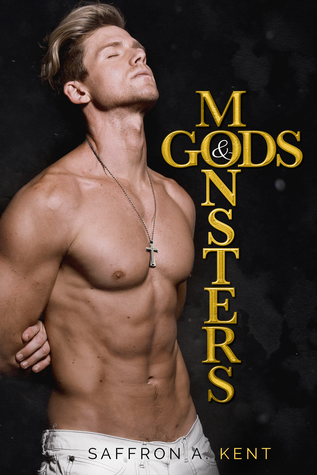 1 Star
Here's another overdue book review for your viewing
dis
pleasure. I just realized I read this on Valentine's Day. Ha! No wonder my husband didn't get any play!!!
I wanted to read
Gods and Monsters
immediately
. First, dat cover . . . .
He makes me want to bend it like Beckham!!!!
Second, dat title which noted below had me all like . . . .
And third,
dat
- okay, that's just not me I can't do it anymore - THAT synopsis which was so very . . . . .
But since this was a dirty book it would have 100% more penetration than ol'
Romeo & Juliet
ever had. I was sure I was going to love it. And then?????
Dude and dudette
did
run away together à la Romes and Jules, but things went off the rails
completely
when they decided revenge on the Montagues and Capulets . . . I mean their parents should come in the form of engaging in copious amounts of sex without protection despite being broke as a joke and completely incapable of taking care of themselves, yet alone a tiny human, and when that wasn't enough starring in a porno together. In the immortal words of Sir Charles Barkley, there's only one thing to say about this book. It's . . . . .
I actually highlighted a bunch of stuff and made a bevy of notes about what a horrible experience I was having, but I think this one sums everything up . . . .
"Good lord, this thing is like a 14-year old's wet dream."
Oh, and all the sex????? Too bad it made me picture this . . . .
Blergh. I hope they called one of those crime scene types of cleaning crews in to remove all the snail trails from their roommate's apartment for him!
Thanks again to my Book Fairy for gifting me this one. Sorry I hated it!
ORIGINAL "REVIEW:"
This book has been showing up all over my feed for the past couple of weeks (even though only one friend has read it). NA is most definitely not usually a hit for me, but I knew I would eventually have to give in on this one if for no other reason than to get THIS from playing on a loop in my head . . . .
This morning I woke up to an Amazon email notifying me a friend had bought it for me. On her own, without me begging, heck without it even being on my TBR. Don't let the haters tell you otherwise. Goodreads is home to some amazing humans.
Thank you again Book Fairy!!!! I was supposed to be finishing
God-Shaped Hole
today, but I think I'm going to bump "Porny Saturday" up a day instead ; )