3.5 Stars
Deception Island
pinged my radar because it had the trifecta of summery goodtimes – an island (duh), a fall-for-my-captor storyline, and of course . . .
Good thing the plot delivered because if I had been reading only for the humpty dance????
Ouch my blueballs. Yep, this one only had
ONE SEX
, but it made up for it with plenty of stabby action instead.
The basics are that Holly recently was released from prison and due to being quite a decent doppleganger, has been hired to play the part of a socialite with a jet-set lifestyle by said socialite's Senator daddy. Rafe is a former bad-guy turned good who is willing to return to the dark ways of his past in order to save his son. His mission? Kidnap the Senator's daughter for a hefty ransom and kill her if things don't go according to the plan.
So obviously this one might piss half the universe off because of the whole "body betrayal" malarkey that is par for the course with these types of stories. The difference this time was the kidnappee learning the truth about the kidnapper pretty pronto and then vice/versa before any sexual shenanigans ever went down.
It was kind of guaranteed to be a winner for me once I found out it featured a French speaking bad guy turned good too because . . .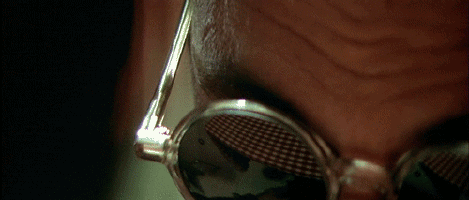 Yep. That'll get her done.
And while there was talk about things like being "engorged" (*shudder*) during
la petite mort
, I discovered that "wet chatte" is far less vomit inducing than talking about . . .
Finally,
Deception Island
delivered a deliciously cheesetastic rescue scene that could have only been improved had this happened in the middle of the cyclone . . .
Obviously this isn't going to win a Pulitzer, but come on - it's summer and it's been a thousand and twelve degrees for weeks now so if you don't like that I get my kicks off this kind of stuff then . . .
Kathleen
takes the credit (blame?) for this one. She gave it all the stars and had me running to NetGalley in order to "wish" for it (then by the time said wish was granted my dumb ass had to try and figure out what the heck book it was).
ARC provided by NetGalley in exchange for an honest review.
Thank you, NetGalley!