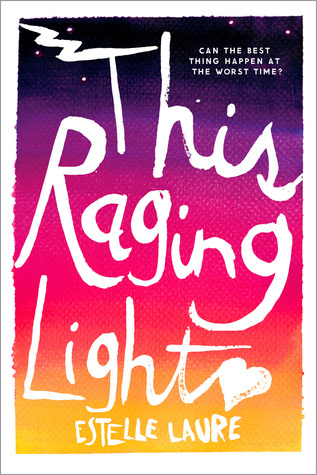 3.5 Stars
"Do not go gentle into that good night. Rage, rage against the dying of the light."
Lucille's life was pretty average, up to the point where her daddy went nutso and her momma skipped town . . .
"All she left me was her car and this house. And wren."
Ever since Lucille has been doing her best to keep it together, but when the little bit of money left behind runs out and the bills start piling up, she realizes things have to change. With some help from her best friend and a job offer from the local
Hooters
high tipping Mexican joint, Lucille might just be able to keep her head above water and her family's secret until her 18th birthday rolls around . . . that is if she remains focused and keeps her distance from her bestie's (very taken) twin brother.
I received an advanced reader copy of this book months before it came out and failed to ever read it due to the "he has a girlfriend, but we just can't stop our faces from smashing into each other every once in a while anyway" that I heard was featured in this book. Normally that's something that just pisses me off to no end and I placed myself firmly in the category of . . .
But then I found myself looking for something YA to add into the mix and that damn 80% requested/reviewed ratio doesn't generate itself so I took a gamble with
This Raging Light
. This story is apparently the exception that proves the rule when it comes to the cheater plotline, I guess, because after reading about poor Lucille and the shit sandwich she was served for breakfast, lunch, and dinner it was apparent that . . .
The entire story was solid and the characters realistic. Not only was Lucille's best friend
not
accepting of Lucille's deepening feelings for her brother . . .
"I thought your fixation was cute at first, but maybe a reality check? He has a girlfriend."
Lucille's reaction to her father's brand of "crazy" was refreshing as well . . .
"Go to therapy for real. Figure yourself out. Figure out how to tell the truth, take some responsibility. What you did to Mom, the way you treated us, the things you said, none of it was okay. And you know what else? While you're at it, grow up."
I appreciate, maybe more than anything, stories that seem fresh and that push the envelope a little. This was a good one and I'll definitely be looking for more stuff by Estelle Laure in the future. Oh, and another fresh thing? A leading male that wasn't all sculpted abs, dark tan, and Cerulean blue eyes, but rather a ginger . . .
I can get on board with that.
ARC received eons ago
from NetGalley in exchange for an honest review. Thank you, NetGalley!