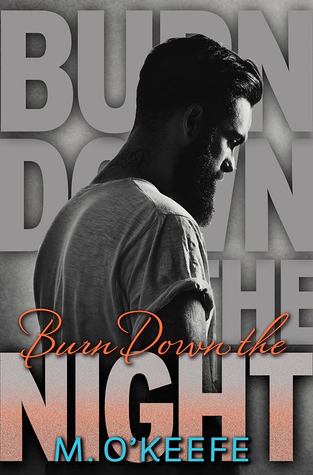 5 Stars
Burn the Night
was brought to my attention when a Goodreads' friend posted a status update "gently hinting" that a buddy-read should happen . . . .
Since the requested participants of said buddy-read were last in line when Our Lord and Savior Tom Cruise was handing out willpower, she didn't even have to get to the wedgie part.
So the plot goes a lil' summin' like this: Olivia was in school to be a nurse, but then
stuff and things
happened that landed her with a real charmer who quickly showed his true meth cookin'/sister wivin' self. Olivia got out, but her sister remained. Fast forward to Olivia being known as Joan and working at a club in order to figure out how to save her sibling. It's there Joan meets Max . . . .
Although the chemistry was off the charts when she was finding 'em and grinding 'em during a lapdance, neither was willing to drop their guard and give in to temptation. Fast forward again to some more
stuff and things
which leaves Max on death's door and Joan the only person who might possibly be able to save him. How, you ask????
"You kidnapping me?" he asked.

"Only a little."
While Joan and Max are in hiding, some truths begin to come out . . . .
"I let you go and you won't kill me?"

"I was never going to kill you."

"Right," I laughed. "You were only going to beat the shit out of me?"

"I was going to fuck the shit out of you."
And fuck the shit out of her he does . . . . eventually (*cough totally worth the wait cough*) . . . .
This book was hotter than a ballsack in 95 degree temps with 80 percent humidity. Not only was the leading male a bearded badass that called a certain someone to mind . . . .
But the plot was
good
with great pacing and just the right length as well. The writing was good too. It wasn't over-the-top purple and distracting, just a little
lavender
when necessary. And the sex? Holy ladylove, Batman. Didn't see that coming!!!!
I'm not generally into dirty talk or a lot of self-pleasure without actually sealing the deal, but I'm pretty sure my underpants melted off in the hood at my kid's baseball practice where I was reading this so it gets every dang one of the Stars.
Many thanks to
Vivian
for being the cyberbully who forced this on me in the first place, to
Shelby
for always being another willing lemming ready to jump off the cliff, and to one of my favorite little smut-mongers
Kathleen
for hitting the request button as well. As for the author? You let me know if you ever want me to read anything else you've written. I'm getting real good at the sexy books : )
ARC provided by NetGalley in exchange for an honest review.
Thank you, NetGalley!