3.5 Stars
When Alice was just a little girl she was attacked by twins who were trying to please "Mister Tender." While
Mister Tender's Girl
flat out states in the blurb that it was inspired by the true events surrounding a brutal stabbing of a young girl by two classmates who claim they did it in the name of the "Slender Man" – the character of Mister Tender reminded me less of this . . . .
And more of this . . . .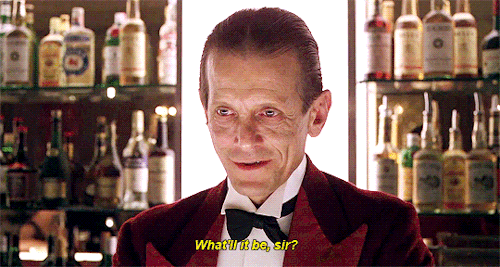 (If you don't know who that is, we may have to reevaluate our friendship.)
Combined with this . . . . .
As Mister Tender was a comic book …. errr excuse me
graphic novel
creation of Alice's (the stabbing victim) father in the form of a friendly neighborhood bartender who could give you anything your heart desired – as long as you performed whatever task he requested of you in return.
Years have passed, Alice is now grown and moved across the pond to the States, owner of a coffeehouse as well as her own home and has done everything possible to escape her personal history – until a package arrives that won't allow her to keep ignoring it.
I will attempt to avoid spoiling things here, but you do need to be forewarned that this sucker goes off the rails pretty darn quickly into unbelievable territory. And Alice????
If you can check reality at the door you might find this to be a pretty stabby fun time. 3.5 Stars for me, but rounded down because apparently even some things are too
ridiculous
for me to accept.
ARC received about 114 years ago from NetGalley that I just now got around to reading since I suck. Thanks NetGalley!