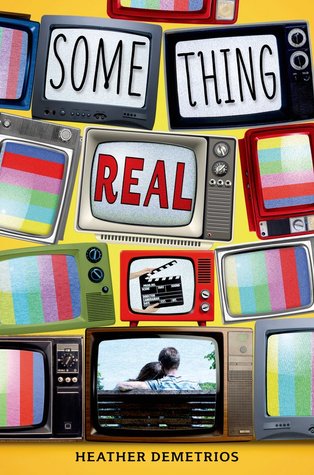 2.5 Stars
Something Real
is the story of Bonnie's . . . . "unconventional upbringing." You see, for most of her life (seriously, she was literally born on camera) Bonnie's ginormous family was the subject of a reality t.v. show called "Baker's Dozen." When the show was cancelled and Bonnie's parents got divorced, she thought it would be her chance to be a regular high schooler. Little did Bonnie know the 13 Baker children would be going back on the air during her Senior year in high school for a new show entitled "Baker's Dozen - Fresh Batch."
This might be a time where I was just too old for a particular YA book. There's nothing
wrong
with the story . . . there just wasn't much story. At over 400 pages,
Something Real
got to be more than a little repetitive and as someone who chooses reality television shows (don't judge) for my brain candy when I'm not reading this story seemed to be a bit of a rip-off of another show about a large family with a money-grubbing shrieking harpy for a mother . . .
Ugh, if there's one thing I
really
don't need more of in my life is something that reminds of of Kate Gosselin.
Have no fear, Kate, I will. I like my reality shows to feature illiterate trashy bitches who call each other "prostitution whores" and do things like this . . .
Watching parents (or in this case reading about parents) exploit their children makes me want to HULK SMASH!!!!
And call me a
Friends
purist, but titling all of the chapters "The One With . . . " seemed like a rip-off of another VERY popular show.
I'm giving this one 2.5 Stars because I found it to be perfectly mediocre. The good thing is, I
loved
I'll Meet You There
by the same author, so I'm more willing to accept the fact that this is a case of "it's not you, it's me."