4 Stars
As soon as I heard "inspired by
Grease
" – well . . . . . .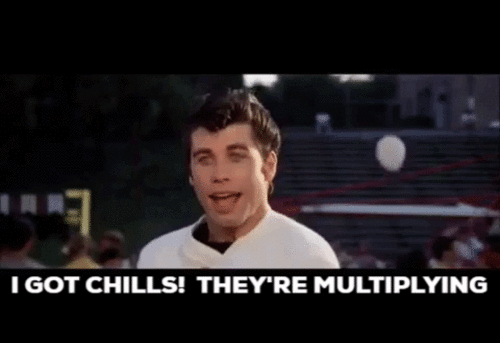 Much like the band TLC I will fully admit I ain't too proud to beg either and did everything in my power to acquire an early copy of this one. And as soon as Ollie started his new school only to run into his summer lovin' Will who totally pulled a Danny Zuko with his popular basketball buddies by saying he spent
his
summer just . . . . .
You know this old lady was like . . . . .
Only Mostly Devastated
was everything I wanted it to be. It totally had
Simon vs. the Homosapiens Agenda
vibe as the blurb promised (not so sure about the
Clueless
namedrop – not really accurate and it wasn't even necessary when the book is a guaranteed winner like this one), Will totally had
some
legit reasons for being a bit of a turd, Ollie was a great/understanding friend, but not afraid to use his words and was never a doormat just to make someone else's life easier, there was just enough teenage drama, and
of course
it all culminated ♪♫♪at the high school dance, where you can find romance, maybe it might be loooooooove♪♫♪.
I ate this sucker up . . . . .
Highly recommended.
Endless thanks to Wednesday Books for the early copy. You got me feeling all . . . .
Rama lama lama ka dinga da dinga dong
Shoo-bop sha wadda wadda yippity boom de boom
Chang chang changitty chang sha-bop
Dip da-dip da-dip doo-wop da doo-bee doo
Boogedy boogedy boogedy boogedy
Shoo-be doo-wop she-bop
Sha-na-na-na-na-na-na-na yippity dip de doom

Wop ba-ba lu-mop and wop bam boom!