3 Stars
Just as I was getting ready to start my Christmas staycay, we received a dumping of snow that would provide all of the excuse I needed to not change out of my pajamas for at least the first 24 hours of my freedom. I'm chalking it up to the fact that . . . . .
Since I had already decided it was going to be a day of . . . . .
I thought it was high time that I opened up the pocketbook and purchased this sucker that had been on my
don't-even-call-it-guilty-pleasure-because-I-don't-feel-guilty-at-all-when-I-read-these
TBR for eternity so I logged on to Amazon where . . . . .
Maybe
sprinkle
is more fitting since these aren't expensive at all.
This series is such a fantastic timesuck. I especially love the fact that . . . .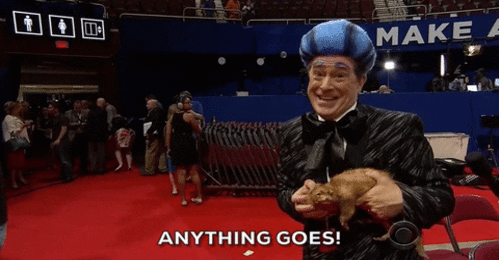 I mean, we're talking motorcycle club (and a real one to boot that does illegal things) and girls formerly in some sort of religious cult and kidnappings and drug cartels and sex traffickers and dudes who don't have sex with each other, but always have their sex three-way style. Oh it's just so very over the top. Your mileage may most definitely vary when it comes to your opinion of this series. Just know that it's total farfetched brain candy and if one of them isn't exactly your cuppa, another might be. A 3 Star rating from me equals I thought it was okay so please don't troll me for not falling all over myself for the double penetration. It's just that nothing can compare to my reaction to
Ky and Delilah's book
.