4 Stars
Apologies that you're going to be seeing Christmas book reviews so late (knowing how I review, probably in February or March), but when I take a vacation I really take a vacation and don't log on/post reviews so it is was it is.
Wow, this kind of has a low rating. It was also a mixed bag with my friends. But for me?????
And you should totally trust me because . . . .
I mean I haven't been told I suck turtles in like MONTHS now guys.
First off, it starts with a 911 call reporting someone has been shot . . . . WITH. AN. ARROW. Ummmm yes please. Also, reminiscent of the hen party gone bad in
In A Dark, Dark Wood
. But this one promised it would be darkly funny so not exactly the same? Whatever. My brain makes connections the way it wants – I've given up trying to fight it.
In case you aren't aware, the premise here is that Claire, Matt and their daughter Scarlett – oh and Scarlett's best pal . . . .
Are going to have a combined Christmas with Claire's boyfriend Patrick and Matt's girlfriend Alex. It's the epitome of co-parenting and as Clark once said it's sure to be the "hap-hap-happiest Christmas since Bing Crosby tap danced with Danny Fucking Kaye." Or as Matt says . . . .
"If barking royals like Prince Andrew and Fergie can manage it, we should be OK. We're all normal, right?"
Okay, so
The Adults
had like my FAVE.O.RITE. things. # 1 . . . .
Seriously. Nothing makes me feel like I'm not so fucked up like reading about other people who are not so fucked up either . . . wait, that's not right. Or it shouldn't be, but much like the Griswolds or the McAlister's – these people put the FUN in dysfunction. They aren't perfect, but they're trying their best.
#2 . . . .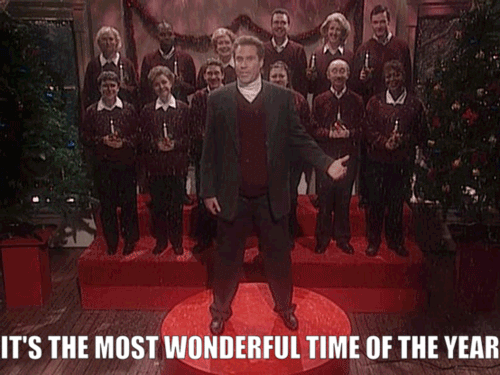 For realz. Christmas is my crack. Normally I'd have like eleventy thousand photos to prove how much Christmas spirit I barf out all over my house in the form of overly decorated trees in every room, but I seem to only have this one . . . .
I think I spent way more hours spending money I don't have and actually doing the decorating this year than admiring my handiwork. Also, I did things like read in my Christmas jammies . . . .
And watched traditional Christmas movies . . . .
And hung out with this horrible little psycho (who can only sleep upside down because he is part vampire????) . . . .
And also publicly shamed myself sending my family members photos like these . . . .
Who let's this happen? Garbage humans, that's who.
Anyway, all that non-reviewing nonsense is to let you know that maybe I was just in the right place at the right time for this, but whatever the case was I absolutely loved it.
ARC provided by NetGalley in exchange for an honest review. Hey, at least I gave you a decent Instagram pic for once since you got a shitty bit of nothing in this write up!