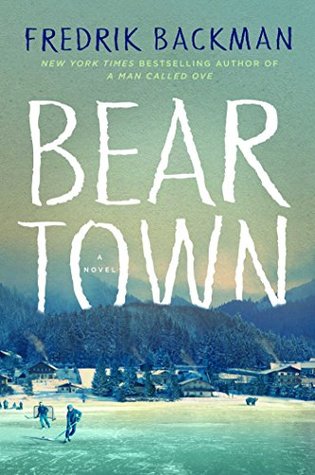 1 Star
What my face would look like if any of you were to approach me and ask: "Wellllll, did you love it as much as I did?!?!?!?!" . . . .
Because I am a terrible liar. Sorry I read this one wrong, everyone. Your billions of 4 and 5 Star reviews shall serve as evidence of my failure.
First, to all of you who were aware how hesitant I was to try this after my experience with
A Man Called Ove
and who
promised
this was really
not
a hockey book, I have this to say . . . .
It is 173% a hockey book – nearly exclusively for the first 38%, but really FOR.EV.ER. because "it's a hockey town," yo! And heaven help if they stop reminding you about that fact for one flippin' page.
Next, here are some notes I made:
"If this another motherfucking book about a girl who goes to a party and gets raped by an overprivileged white boy who then either ends up killing/threatening to kill him or the boy who loves her/the bullied fat kid/her bestie/her daddy decides to kill/threaten to kill him on her behalf Imma burn the fucking building down."
I didn't burn the building down! Yay me . . . .
However, I am
T.I.R.E.D.
of these books. The subject matter at hand shouldn't be a tired trope. Especially from an author who presents the viewpoint that "no one tells you it can be with someone you know." Fuck you, dude. EVERYONE knows that it's most likely going to happen by someone you know and unless you live in a "Beartown" where no one teaches anything other than hockey, that's what you learn growing up.
Obviously I didn't like this. I didn't like the stuff mentioned above, or how un(or under)developed the OH-SO-MANY characters were, or that there always seemed to be HUNDREDS of pages left to read because the pacing was non-existent, or that it was so devoid of emotion. (I noticed that the same translator who was used in Ove was not used here. Maybe he can shoulder part of the blame?) I considered bumping up a half Star simply for Ramona . . . .
And Bobo . . . .
But JFC, at some point I have to stop rewarding clichés, ya know?
I think I need to cut ties at this point, appreciate the one beautiful story I read by this author and not sullen my own memory of him further.
Sorry I failed you all . . . yet again. The good news is I killed two birds with one stone – or hockey puck as the case may be here. I read a book I actually received as an ARC, but never opened because I was terrified of being the wrongreader (#nailedit) and I was able to check Book #1 off for the library's Winter Reading Challenge by traveling to Sweden in my head for this selection . . . .
ARC provided by NetGalley (over a year and a half ago – whoops) in exchange for an honest review. Thank you, NetGalley!