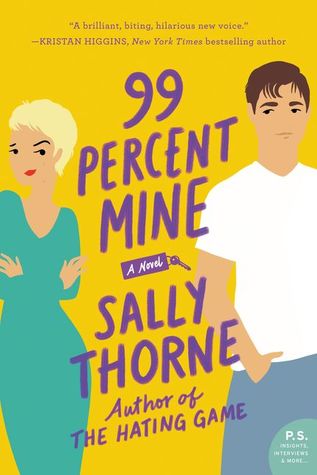 2 Stars
I was supposed to love this. I even lowered my expectations when it was a fail for the Book Fairy who sent it to me. Yet here I am, all . . . . .
Oh this poor thing was just a mess. And I feel soooooo bad for Sally Thorne because that gal probably had no clue
The Hating Game
would take off like it did and sophomore novels are hard enough - I'm sure even more so following up one like that. But this book . . . .
It was just a mess. Like the female lead has a heart condition (that acts up ALL. THE. TIME.), takes meds for it, etc., but hasn't gone to the doctor for two years . . .
And also, how because cardiologists don't really play around when it comes to EKGs and scripts?
She also has pined for "Mr. Perfect" her entire life based on her brother calling dibs when they were little kids????
I mean, she's the one who missed out on everything due to her health – brother just comes off as an entitled butthole. I was hoping maybe brother was gay and the unrequited love is what created the "if I can't have him, you can't either" stance (still a stretch, because the heart wants what it wants, yo), but that wasn't it and when brothers and sisters are too involved in each other's love lives my brain automatically goes . . . .
And
that
is fucking squicky. I don't care if they were twins, I needed more 'splaining before I could jump on board with the reasoning behind this trope.
Also, female lead cuts all her hair off, spends 14,000 years telling us about cutting her hair off (by a barber – because you would go to someone else for a faux hawk??? I wouldn't) and apparently it's just to make her unattractive . . . .
Like for real. If you are attractive, the hair isn't going to change things. Get a vat of acid next time maybe.
Anyway, this just seemed rushed (which, again, I get because I'm sure the pressure was on for a follow up to
The Hating Game
) and it didn't make sense and the characters weren't likeable or developed and they never got any less shallow/hollow and . . . .
Yeah.
I received this book and a packet of unicorn post-its from one of my friends here who saw my "ThisIsAmericaIWantItNow" kind of update – proving once again how amazing this community is. . . .
(Coffee mug is mine because the only thing greater than my book, Christmas decoration and coffee mug addictions is buying crap that will embarrass my kids when they have friends over.)
ORIGINAL "REVIEW:"
If I don't receive an ARC . . . .
Okay, maybe that's a
little
dramatic - but seriously I will be so sad because
The Hating Game
is pretty much my favorite rom com ever and I have been
dying
for Sally Thorne to release something else.