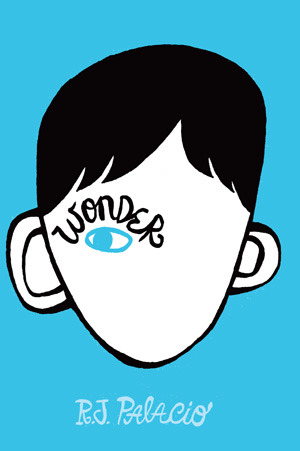 5 Stars (actually a billion stars)
♪♫♪♫ ♪♫ ♪♫ "O, I believe
Fate smiled and destiny
Laughed as she came to my cradle
Know this child will be able
Laughed as she came to my mother
Know this child will not suffer
Laughed as my body she lifted
Know this child will be gifted
With love, with patience and with faith
He'll make his way" ♪♫♪♫♪♫
For anyone who even is
thinking
about saying this is a kid's book . . . .
And also you are wrong.
Wonder
is a book for EVERYONE. Seriously. Like every single human being on the entire planet. And maybe even your dog. Hands down the best Middle-Grade book I've ever read. So much so that I just did a re-read and I
never
do a re-read.
This is the story of August Pullman and his experiences during 5th grade – which just so happens to be the first year he ever attended school after being homeschooled. Why was Auggie homeschooled???? Well . . .
"Rat boy. Freak. Freddy Krueger, E.T. Gross-out. Lizard face. Mutant. I know the names they call me. I've been in enough playgrounds to know kids can be mean. I know, I know, I know."
Fifth grade is the year that Auggie's parents decide they need to attempt to expose him to the real world. They realize that reality for Auggie might be harsh and offer him the opportunity to go back to homeschooling at any time, but remain hopeful that people will look past Auggie's exterior and see the exceptional person he really is.
A little backstory: Awhile back it came to my attention that my youngest child was claiming to be doing his required reading, but really was . . . well, pretty much just staring off into space and doing anything except reading. (He
is
my child so you have to figure there's some buttholery that rears its ugly head every now and again.) The easiest solution to the problem? Buddy read with dear ol' mom. So I forced him to read my favorite "kid book" and guess what happened?????
He started flagging quotes just like his nutcase mother . . .
Know what else? It really kind of kicks all the butt to have "book club" with a small human. We'd read 20 pages a day (the required amount – unfortunately I'm not a miracle worker so he still doesn't loooooooooove the process of reading like I do) and then drink hot cocoa and talk about what we read (to confirm he really
was
reading this time and not pretending). Sometimes we would share tears and sometimes we would share laughs. We
always
shared the importance of being a "Jack" rather than being a "Julian."
Small humans final reaction? "
PHENOMENAL
. 5 Stars. Every kid should read this and we should read books like this in class instead of the boring stuff they make us read."
My reaction?????
This book will break your heart . . . but then it will put the pieces back together again. Filled with lessons of being a decent person that it teaches in the best, most non-preachy way possible. Bottom line is it is just . . .
Have you seen Hot Rod? It's kind of the worst movie ever while simultaneously being the best movie ever. My kid is a freaky movie quoter like his mother and encouraged me to
over
share this gif. If you read the book you'll see it makes sense. What are you waiting for? Go read it right now. Here, I'll even help you with the supplies you'll need before starting . . .
I bought a hardback of this book because it is seriously one of the best things I've ever read. I look forward to forcing my future grandchildren to experience all of its Wonder just like I did to their daddy.