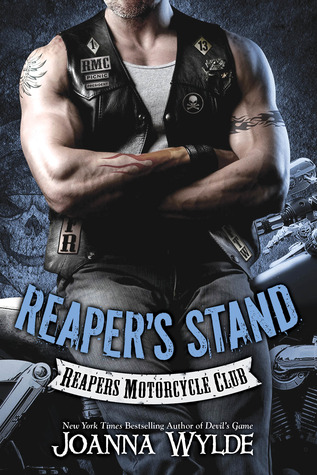 4 Stars
A week ago I decided I wanted to read
one
motorcycle romance. This review is for my
fifth
of the week. Indeed once you fall into the porno trap it is nearly impossible to pull yourself back up. Not to mention it's sticky. Oh so very sticky.
If you aren't familiar with how these types of series work, it's pretty simple. Each book follows a different member of the club and the woman he will commence to banging. The focus of this story was the MC President – Picnic . . .
"I had no idea why they called him that and I sure as heck hadn't asked. He was the least picnicky person I'd ever met in my life."
Apparently when most people hear the words "Motorcycle Club President" they picture something kinda like this . . .
Unfortunately my brain hates me so
my
silver fox looked more like this . . .
Even when I tried to fight it and think of someone who better matched Picnic's description the best I could come up with was Senior from Orange County Choppers. If you don't know who that is, he basically looks like this . . .
Luckily for me Joanna Wylde included a pretty damn good plot to distract me from my inability to cast characters. As I said, Picnic is the Reapers' President. London is an owner of a cleaning company that has contracts with some of the club's businesses. Picnic wants to do the shibbity dibbity with her. However, London has bigger concerns - mainly raising her young cousin who doesn't have a history of making the best decisions. Picnic is nothing if not persistent, though, and continues trying to wear London down . . .
"Stop bitching and let me fuck you."
I'm sure plenty will find Picnic to be a grade-A asshole (I don't understand why people who don't like badboy alpha males would ever choose to pick up a story like this in the first place), but he cracked me up and most definitely met his match with London . . .
"Are you fucked in the head? You're so fucking stupid I could strangle you. Don't know exactly what we're doing here just yet, but it's not just sex."

"Right, and I suppose you're planning to be true and faithful? I don't buy it. You're a known man-whore. Also, you ever call me stupid again and I'll dump paint stripper on your bike. That isn't a threat it's a promise."
Not everything was fun and games, though, and soon London and the Reapers found themselves dealing with some serious bad guys . . .
No, like
REALLY
bad guys . . .
Out of the 5 of these books I read this week, this was probably the best as far as story, but
Motorcycle Man
wins for the male lead sploosh factor. The only real problem I had with
Reaper's Property
was the highspeed timeline. I appreciate a story that doesn't drag, but this whole thing took place in only one week and it was just a little too instalovey for my liking. That being said, the loving was hot like lava and . . . .
Mmmmmmm. Soooooo very vulgar.
As of now I'm moving on from the motorcycle porn, but I'm still up for suggestions. To the new followers I've gained this week, I won't blame you if you dump me once I start reading my regular schizophrenic variety of stories. If you don't already follow her, you should all follow
Val
. She reads lots of dirty books and homegirl is HI.LAR.IOUS. To my old friends and followers, thanks for tagging along on this crazy ride. . .