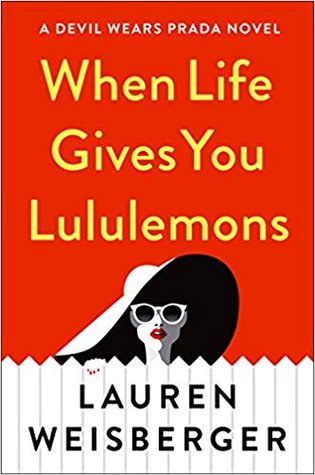 3.5 Stars
I had
ZERO
intentions on ever reading this when the title kept appearing on both my GR and Instagram feeds. While I'll give props where they are due admit that title is über catchy and 5-Star worthy all by its lonesome, merely the mention of the word "Lululemon" tends to make me a little . . . . .
But then I saw that it was a DWP follow-up and featured EMILY no less. God how I loved bitchy Emily . . . . .
And it reminded me of all the book-reading good times I used to have back when I still had a waistline and some estrogen – so despite my best efforts to be one and done when it comes to books in a series I found myself breaking my own rule for like the umpteenth time this year and . . . . . .
Okay, so the story here is about Emily who has made her way from the first assistant's desk at
Runway
to a "Rachel Zoe" of sorts who not only makes her clients look good, but covers their tracks when they do things that make them look bad. Emily's clients have been dropping like flies for a newer make and model and she finds herself unable to put a positive spin on her most famous client's most recent escapade . . . .
Emily decides to head
for the
away from the Hills and to her old friend Miriam's place in Greenwich. It's there that she will learn how to navigate a different sort of water – one full of overpriced yoga pants and overachieving stay-at-home moms. It might even be the place to revamp her career and flip the script on the story behind Miriam's friend Yolanda's DUI and crumbling marriage.
What can I say? This is the summer of the Mom Com for me. Apparently I've matured a little as well because I sort of found Emily to be insufferable for quite a good chunk of this third go 'round. The good news is I made a potential new BFF in Miriam. And Karolina? I channeled my girl crush and pictured a younger version of one my fave former housewhores . . . .
And you just KNOW that smarmy David Foster would probably try to sell some bullshit to the tabloids in an attempt to not make him look like the vile uggo he is just like Karolina's husband. I didn't even have to feel bad about my fixation/addition to the Hos either : )
"I feel like we just stepped into an episode of Housewives. Only without all the screaming. And with much better taste."
The only other thing that didn't quite work for me ????
Go figure, right? Probably some wrongreading happened, but seriously there was zero chance my cold dead heart was going to go for that ending.
Still an absolute delightful trip down memory lane for me and one I'll happily round my 3.5 Stars UP rather than down for a change.
ARC provided by NetGalley in exchange for an honest review. Thank you, NetGalley!