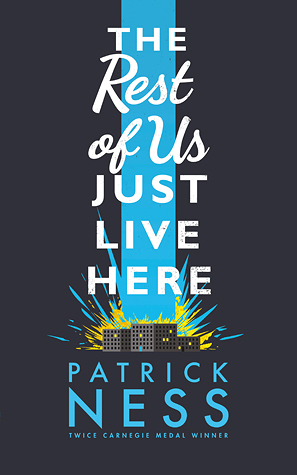 4 Stars
"Everything's always ending. But everything's always beginning, too."
Not a whole lot happens when you live in
"a suburb of a suburb of a suburb of a city that takes about an hour to get to."
Well, that's not entirely true. Stuff
has
definitely happened in the past. It wasn't that long ago that the town was plagued with the
"vampire cycle of romance and death"
. . .
Also . . .
(Note: There was no plot point regarding half-naked wereboys, but I gotta be me.)
Shortly before that there was quite the epidemic of people
"dying beautifully of cancer"
. . . .
But everyone knows those things only happen to the "indie kids." You know the ones, those with names like Satchel and the oh-so-many Finns and Wisconsin and Aquamarine.
Mikey is just trying to make it through the last 4 ½ weeks of school, hopefully without said school blowing up . . . again. He wants to graduate and maybe
finally
get the nerve to ask Henna on a real date. He wants to make his little sister's dream come true and take her to the Bolts of Fire concert . . . .
And he wants to find a way to break the loop which is his OCD without using the help of his friend Jared who might just answer to a higher calling . . . .
The universe might have different plans, however, when Mikey and Henna have a run-in with some of the local fauna . . .
If you haven't figured it out yet,
The Rest of Us Just Live Here
is the story of the kids
behind
the latest trope. My friend
J
does a great job summing it up in his review, but basically . . .
My reaction upon finishing was a little something like this . . .
I'm giving this 4 Stars for the simple fact that I could not stop reading it . . . but I'm not exactly sure I actually liked it. All I do know is Patrick Ness is different from
everyone
else when it comes to his stories. Recommended to anyone who has read alllllllllllllllllllllllll the usual suspects of the YA genre, but still can't quit.
ARC DENIED by NetGalley but I read it anyway because that's what I do
. . . .