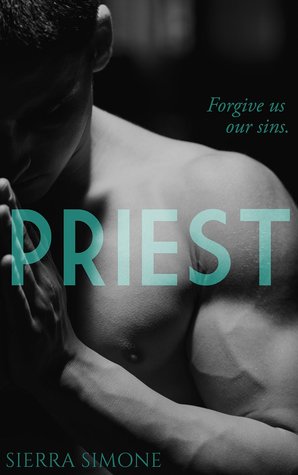 3 Stars
"Si vis amari, ama. If you wish to be loved, love."
As a
terrible
good Catholic, allow me to sum this one up in one sentence for those of you with short attention spans or who need to leave this review space ASAP in order to pack my handbasket for me . . .
BLESS US OH LORD FOR THESE THY GIFTS WHICH WE ARE ABOUT TO RECEIVE FROM THE BOUNTY OF CHRIST OUR LORD AMEN!
If you are a woman of a certain age who has embraced the fact that you are a disgusting pervert, you probably had warning signs from an early age when a certain miniseries aired on the old telly . . .
As I said before, I'm a real good Catholic who fantasized our liver spotted, death breath, 1,000 year old priest would find his way either to retirement or his reward and be replaced with a Father de Bricassart I could break every vow with . . .
Of course, that only happens in the movies so this particular storyline remained a latent fantasy in the recesses of my mind. When I saw
Priest
available as a freebie on Kindle I was on that shit like Father Tyler on Poppy's snatch. But I'm getting ahead of myself. As I said, this is the story of Tyler, a man who became a priest
because of reasons
who is assigned to a small congregation (Sidenote: WHERE I LIVE, HOLY SHITSNACKS!!!!) where he leads morning mass and hears confession on the daily . . .
Enter Poppy . . . .
In the immortal words of one Fiona Apple, Poppy's been a bad baaaaad girl. Raised in an upper class family, she left it all behind when the man she thought would be her dearly beloved told her she was nothing but a filthy pirate hooker and left her for another woman. Embracing her inner freak, Poppy moved to flyover country and began working as a dancer at a high-end gentlemen's club. She's left that life behind, however, and is back to earning her keep via her CPA and is now looking for a little spiritual guidance. But there's just
something
about Father Bell that makes it impossible for Poppy to
not
let her fingers do the walking when she's in the confessional booth.
Tyler does his best to resist temptation . . . .
"Gird me, O Lord, with the cincture of purity, and quench in my heart the fire of lust."
But he's only human and quickly discovers there is no resisting the temptation of Poppy or the inevitable outcome of an evening spent with Netflix and Chill . . . .
"How does it feel?" she whispered.

"It feels . . ." my voice was barely more than a gasp at this point. "It feels like heaven."
And I was like . . .
So obviously this is pure fantasy. The characters are 100% not realistic, Tyler's into a bit of the spanky spanky, Poppy is a bit into getting her O-face on via some minor humiliation. If you've been married 20 years like me, your husband might end up with a real treat when he discovers his Missionary Marge of a wife suddenly is channeling her inner Madonna . . .
(Man, her boobs were AWESOME in that video.)
Anyway, if you want to read something that makes you light novenas for yourself, this might be a winner. The only thing that didn't really work for me was the nickname (it's always the damn nickname). This time?
LAMB
. . .
Puke.
Oh and in tribute to my buddy Ron 2.0 – here's the song styling that has been playing in my head the entire time I read this book . . .
https://www.youtube.com/watch?v=4F9Dx...