3 Stars
In what may be the longest synopsis in the history of the universe, nearly the entire storyline for
The Mountain Between Us
is presented so I'll spare you all the excessive details. Basically, the tale here is of Ashley and Ben, strangers who meet at the airport while trying to get to their respective homes. When an epic snowstorm shuts things down, the two hop a puddle jumper I hopes of beating the weather and continuing on to their destinations. Unfortunately for them,
Harrison Ford
their pilot doesn't quite get them where they are trying to go . . . .
I went in to this thinking it was going to be some sappy-ass romance where the plane conveniently crashes right next door to a cabin in the woods and everyone farts rainbows and gets their smooch on. Due to my assumption I found myself kind of having a hard time enjoying the book. But then the book itself told me to get my act together . . . .
"We've all seen movies where two strangers are lost in some vast wilderness. And then just like An Officer and a Gentleman, they end up rolling on the beach. Mad, passionate love that solves all their problems. Movie ends, and they walk off into the sunset. Weak-kneed and googly-eyed. But this is real life. I really want to get out of here and back home."
And I decided to attempt to read this as a tale of
survival
with a little Lifetime Movie of the Week thrown in for good measure and things went a lot better. Now, that's not to say there weren't moments when I was like . . . .
Because really? Dudebrah not only happens to be a doctor but also comes packed for hiking with all the amenities that will keep your toes from freezing and falling off???? Probably not, but sometimes you gotta just go with it. If you've reached the end of all that Nicholas Sparks has to offer, Charles Martin probably is a solid choice for your next go-to guy. And if your husband has told you this more than a time or twelve . . . .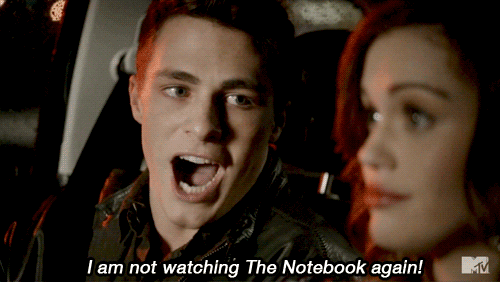 He'll be super thrilled to know this is soon to be a movie too. That's how it ended up on my radar to begin with. I posted a recommendation request when this little challenge was about to begin . . . .
And a certain bookpusher we all know and love (well, everyone loves her except "Rusty Bottoms") said I should choose this. Then I found out SHE'S NEVER EVEN READ THE DAMN THING. WTF?!?!?!?!? Anyway, good thing I liked it aiiiight so I won't have to sick the hounds on her.
Now indulge me in taking a moment to discuss the aforementioned movie. This was the original casting . . . .
Uhhhh, no. The target audience for this story is going to be the geriatric set like myself. Also, who the hell would believe Jax Teller as a doctor? He ain't THAT great an actor, kids. It'll be interesting to see how the new Alt-Right movement deals with the choices that are actually going to madk it to screen . . . .
*gasp* Their knuckle-dragging selves are sure to protest.
Anywho, I doubt I'll fork over any sort of cinema price for this, but I'll definitely make sure to catch it on DVD or when it hits the movie channels – if for no other reason than . . . .
Hehehehehe. Me = pervert. Idris Elba makes me wanna . . . .
Book # this challenge ended 13 days ago but I am still reading whatever queues up at the library anyway because much like Depeche Mode – I just can't get enough. I just can't get enough . . . .