3.5 Stars
In the immortal words of one smushy faced former A-List Hollywood actress: "You had me at
hello
" errrrrr, I mean . . . . .
"Mr. & Mrs. Smith meets the Sopranos."
I mean for realz yo. When I read that I was seriously like . . .
Or momma. Whatevs.
Meet Melody Giovanni and Liam Callahan. She's the daughter of the Italian mob boss. He's the son of the Irish version. The two have been made an offer they can't refuse – an arranged marriage which will bring the two families together so they can
really
run Chicago. Liam expects a new missus who will spend her days shopping, attending charity events and the like. Melody expects her days to be spent doing things that are
juuuuuuuuust
a bit different from her hubbie's plans . . .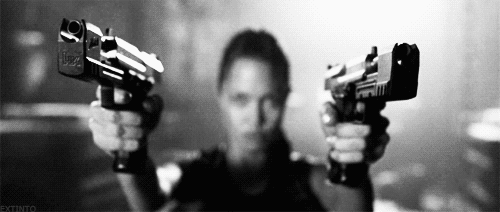 What neither ever expected was . . .
I mean these two seriously knew how to go 'head girl go 'head get down and I was all: Praise Jeebus! Me pantaloons – they doth disintegrate.
If you like your porno with a real poopton of torture and your MCs to be bad to the bone, this is most definitely the selection for you. If you are
a flippin' nutter
one of the abundance of 1-Star reviewers for
Ruthless People
who expect their pornography to be "a realistic depiction of the mafia," you should probably just eff off because seriously?
Don't harsh my buzz. My hubs is digging the new porny Kelly . . .
(Mitchell? Notsamuch.)
(3.5 Stars instead of 4 because if you're going to charge people $5.00 for something, there really shouldn't be so many typos and also because really with the instalove? You're damn lucky my underwears exploded from the smexy parts and made me fuggetaboutit.)