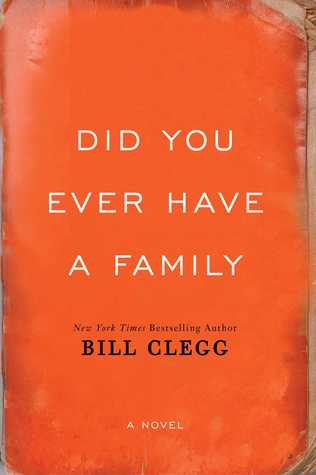 4 Stars
Ignore the three-point-eight-something Goodreads rating.
Did You Ever Have A Family
has an unheard of
4.36
from my friends and those people have some
serious
diversity when it comes to what they like and don't like. It's that rating that had me finally check this book out – but it's also that rating that had me terrified to do so.
If you're like me and Christmas is a major fake-it-'til-you-make-it type of holiday, a book like this is the perfect choice. Rather than attempting to justify my melancholy I could blame it on a book and have an excuse to mope around the house Big Ang style . . . .
Win!
What a book this was. Nominated for both the Man Booker Prize and National Book Award
Did You Ever Have A Family
was most definitely literary fiction. On the surface this was the story of loss when tragedy strikes a family the night before there is to be a wedding. That alone was enough to have me test my head in the oven skills . . . .
But that storyline was only the beginning. This book wasn't about the whodunit (you will probably know immediately) – it was about peeling layer after layer of this onion until everything you'd ever want to know (or not want to know) about the affected parties was revealed and it left me sad and happy and angry and forgiving and barking things at my husband like . . . .
Told by various narrators over various points in time,
Did You Ever Have A Family
was woven together nearly seamlessly. There were a few moments when I had to regroup and figure out if I was reading a Lydia or June chapter, but I blame it on trying to fit my head in the gasbox next to the turkey rather than a problem with the writing itself.
I don't recommend a lot of books, but I'm recommending this one. Don't want to take my word for it? I don't blame you. Go read
Shelby
or
Delee
or
DJ
or
Elyse
or
Jennifer
or
Diane
or
Larry
or
Vanessa
or
Zoeytron's
reviews instead.
Book received as a gift from the Wickedest Witch I'm lucky enough to call a friend.