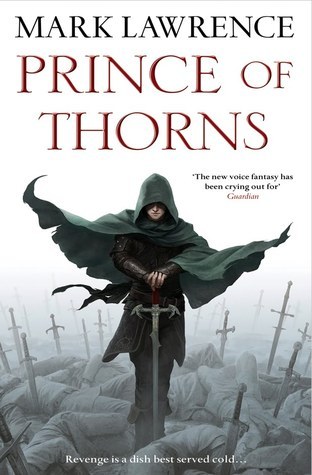 4.5 Stars
"War, my friends, is a thing of beauty. Those as says otherwise are losing."
If George R.R. Martin wrote young adult stories, they'd probably end up a little something like
Prince of Thorns
. In the first four pages the reader is exposed to raping and pillaging and beheadings . . .
The
Prince of Thorns
is Prince Jorg – a boy who watched his mother and younger brother get murdered and who was pretty much left for dead by his father, the King. Jorg had other plans, however . . . .
"I swallowed darkness, and darkness swallowed me."
Rather than dying he took to the road, where he learned from the Brothers how to survive – and how to kill . . .
"The stink of death comes in many flavours, but I like to think I recognize the Reaper in all his guises."
It is now time for Jorg to return home, to face the demons that haunt him, and to reclaim his right to the throne . . .
"This is where it starts. When they write the legend, this will be the first page."
Is it wrong to maybe want a rapey 14-year old Prince to be your book boyfriend? If so, then it's definitely
NOT ME
who feels that way. It's Mitchell. I
loved
this book. Talk about a change of freaking pace from the usual Mary Sue and her insta-loving self. Not only was
Prince of Thorns
filled with characters I
should
have hated (but of course ended up loving), it was action-packed from the first page to the last and even included a twist that made me all . . . .
I liked this so much I'm going to read the second book in the series – and
I NEVER
read the second book in the series. I just have to see what Jorg gets up to next. The only complaint I really have is the back-and-forth timeline. I think this story could have been told with a prologue in the present time,
then
a flashback to four years prior, and continued from there until it was back in the present again. (Of course, that's most likely because I personally think the wonky timeline thing is too overused.)
Alright, so there's my big swoony review. On the flipside, please note that
a ton
of my GR friends 1 Starred this sucker. If you are a freak like Mitchell and myself jump right in. If not? Don't blame me when you hate it. And also, I'm not sure how this puppy is categorized most places, but my library has it shelved as both YA and Fantasy. Don't let young children read this. Not only is it not appropriate, but . . . .
(^^^^Ha! That ought to earn me some friends.)