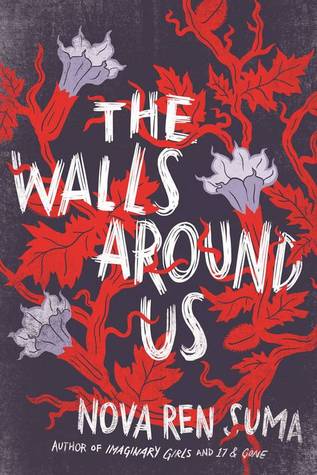 2.5 Stars
"Home is where the heart is, and where the hell is, and where the hate is, and where the hopelessness is."
The only thing scarier than a teenage girl is a teenage girl ballerina . . .
Ori and Violet were BFFs from the time they were wee little girls. As they grew, so did their love (and talent) for ballet, as well as their bond with each other. Now 18, Violet is on her way to Julliard and a chance of fulfilling her dream as a prima ballerina . . .
Ori, on the other hand, isn't quite so fortunate. She's been convicted of a horrific crime and is on her way to a juvenile detention center.
The Walls Around Us
unravels the truth behind everything that happened, and how sometimes a girl will do whatever it takes in order to make things right . . .
First things first, don't let my low rating talk you out of reading this one. This was most definitely a case of "it's not you, it's me." If I would have paid
any
attention to the blurb I would have noticed that it clearly says it is a "ghostly story," taking some of the weight out of my complaints of
not
enjoying the ghostly aspects of this book. I did, however, have those gripes and it's because I think things just got muddled down. The main storyline was
excellent
- it didn't need any more bells and whistles.
This is one of those novels where the less said the better, so I'm pretty much going to say squat. If you are looking for a
very
different "mean girl" story that has some seriously gorgeous writing, this might be the one for you.
"We regretted the blades in our hands and the guns in our waistbands and the lies that dripped from our mouths. We regretted things like hitting our grandmother. Like lifting that baseball bat. Like breaking that window. We regretted a cold winter's day in the parking lot of a 7-Eleven when we made a decision that would lead to a whole new world of regrets."
I'll definitely be interested in reading more from Nova Ren Suma.
This completes this week's hat trick of "books I requested (and was denied) from NetGalley that I was sure I would love but ended up kind of hating."