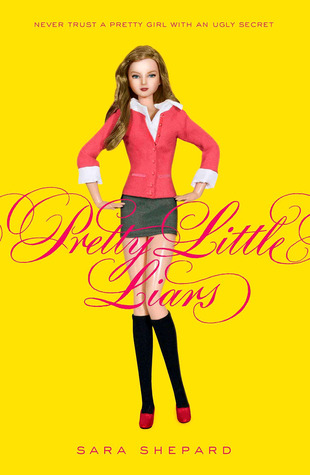 2 Stars
A week or so ago one of my new friends on Goodreads asked what was taking me so long to finish
Pretty Little Liars
. Truth is, I finished it in one day waaaaaaaaaaaay long ago, but my reaction was . . . .
so I never got around to writing a review. Want a sneak peak into the world of Mitchell and Kelly and how to tell if they didn't like a book????
Yep. Not a note, not a highlight, not a comment, nada. This time the problem stems from one issue and one issue alone . . .
In case you don't already know (since there are like eleventy trillion of these books and also a television series),
Pretty Little Liars
is the story of a group of girls whose frenemy, Alison, disappeared during a slumber party. Fast forward three years and each of the girls begins receiving notes/emails/texts threatening to divulge some dirty secrets. Dun dun dunnnnnnnnnnn.
Now, if I were able to jump in the way-back machine I would probably
dig
on this series. Not to mention the t.v. show. From my addiction with all things of the
90210
and
Melrose Place
varieties as a tween, I'm fairly certain I would just lap this shit up too. However, since I'm 1,000 years old, reading/watching
Pretty Little Liars
makes me feel more than a bit like this . . .
So yeah. This one gets a low rating because I really just didn't like it. The writing wasn't great and it was just sooooooo predictable so I can only muster up a 2 Star.