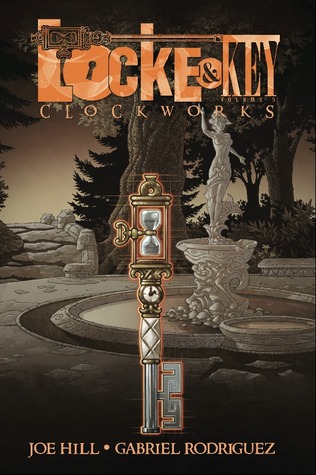 5 Stars
Oh, those poor Locke kids . . .
but they still haven't found what they're looking for.
Clockworks
is back to getting
all
the stars from me, because they story really amped up in preparation for the grand finale. If you have been ready to have ANY of the gajillions of dang questions the previous volumes had you asking, you should be quite satisfied by the end of this one.
So many answers. Squeeeeee!!!!
Not only do you find out the waywaywayback history of Key House, you will finally get the truth about exactly how this happened . . .
and why Erin only thinks about white, all white, all the time . . . or is it blue and black????
You also get to discover what exactly goes on in a teenaged boy's mind . . .
*shudder*
and get confirmation that
KIDS ARE SOOOOO STUPID SOMETIMES!
You'll find out why Bode was the first to discover any of the keys, and the story behind how the writing literally got on the wall.
Oh, and of course you'll discover a new key. This time it's the "clockworks" key (duh, I know). This key is most definitely useful and hands-down one of my faves . . .
Finally, there are
[SPOILERS]
that occur.
Have you started reading these yet? COME ON, PEOPLE! WHAT ARE YOU WAITING FOR?!?!?!?!?!