3 Stars
This little bitty book is about exactly what the title states – the goings on with the staff of the local . . . . .
Not to be confused with . . . . .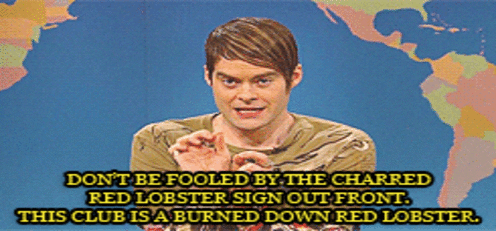 As they work the last shift before their failing location is permanently closed. Some will simply be moving to the next nearest franchise for their next shift, some were such terrible employees at the current strip-mall site that there's no way manager Manny could give them any sort of recommendation. Some will stick it out until the lights are switched off for the final time, some will cut out as early as possible either due to an impending blizzard or interpersonal conflicts. It's sort of like a dramatic version of . . . .
I actually went to the library (in May – because of course I listened to this eighty-seven months ago, but remembered I never wrote anything when my kid asked to go to our local Red Lobster for dinner the other night) to maybe check out
West of Sunset
by this author as that one had been recommended to me. When I saw this short selection available on audio (knowing I had a short road-trip coming up) I figured I might as well roll the dice. I don't really know what to say about this one. The entire experience was kind of like watching a Seinfeld marathon – it's not really
about
anything, and yet somehow . . . . .