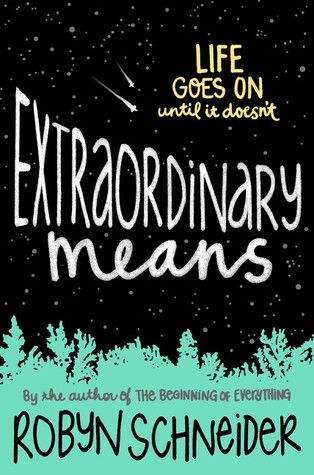 4 Stars
"There's a difference between being dead and dying."
Due to a severe case of old lady brain, I'm not 100% positive how this ended up on my Kindle, but I
think
it was from the library's recommendation software which proves either (1) I'm not as disgusting a pervert as I figured the library thought me to be or (2) I logged in with someone else's account by accident. Whatever the reason, I ended up with
Extraordinary Means
and bumped it to the top of the stack once I saw the author was the same person who wrote
The Beginning of Everything
which I liked okay. So what was this about?????
Damn I wish I would have thought that up myself.
Gillian
, I don't know you but you should get this printed on t-shirts before someone else steals the idea. And also . . . .
Per usual I didn't bother reading a synopsis before starting this book. I was thrown for a loop for a minute or two trying to figure out exactly what was going on with this bizarro boarding school the characters all lived at, but eventually I discovered . . . .
"Spanish influenza came back first, in 2009, although we called it swine flu. Then whooping cough reappeared. Then polio. Then there was a meningitis outbreak at Princeton, some weird strain no one had seen before, which made the government import an emergency vaccine from Europe. Then Ebola. In the middle of this, a new strain of tuberculosis caught on, developing a resistance first to the drugs that had treated it, and then to the vaccine that had prevented it. And then it caught us."
Thanks anti vaxxers . . . .
Lane is the new kid on the block at Latham House (oh oh oh ooooh oh) . . . . .
Who is trying to get back to his old life and early acceptance to Stanford as soon as possible. Reality eventually hits, however, and Lane is forced to make the best of things at his new school. When he comes across a girl he knew when he was a kid . . . .
He finds a high school experience he never would have imagined possible . . . especially with a possible terminal disease . . . .
"They acted like we were at any old boarding school, where you rolled your eyes at the rules and snuck off to do what you wanted. It was the way, out of everyone, they seemed the least defeated. The least likely to give up and spend the day in bed feeling sorry for themselves. They weren't on vacation, they were off on an adventure."
Extraordinary Means
was such a sweet little story. It showed how real first love develops, not as instalove, but through friendship. If you are the mother of a teen who has already ran the gamut of Green and Levithan and Chbosky and Rowell, I highly recommend giving Robyn Schneider a chance. Heck, even if you're an old geezer like me you still might find it to be perfectly . . . .
Warning: Have tissues at the ready. I didn't need them, but – well . . . . .