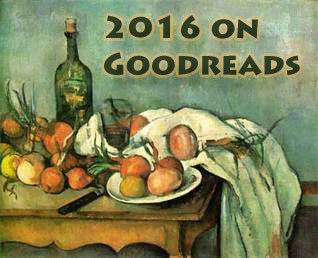 This is the place where Mitchell and I are supposed to reflect on all the great growth and achievements we experienced over the past year. Yeah, we're really not those kinds of people. We're the meme and giffy variety instead so we're gonna do what we do. After all . . . .
2016 was the year Goodreads decided to turn on the bells and whistles – making a majority of its users collectively lose their shit. While I do agree the "new and improved" feed is filled with fuckery, I still acknowledge this is Goodreads' sandbox and we're only allowed to play in it and miraculously managed to adapt without creating 117 new threads on the Feedback Forum each day. Rather than tempting fate, I chose to implement a new policy (that quickly backfired thanks to the useless block function) . . . .
This year I also took a new position within my company which has forced me to cut back on my screwing around on the interwebs time (*boooooo hisssssss*). However, by maintaining a lower friend count filled with people who actually talk to me rather than those who are simply interested in getting the most "likes" I've found my GR experience more pleasant than ever before. These people also are well-equipped to tolerate the assholery which makes up me ; )
I got trolled more than ever before, but the addition of the granny sect to the troll population made for some pretty fun times and I only occasionally told people to fuck off (Stepheny did the same, but she told children to fuck off and I told women old enough to be my mother so she is a way worse human than I am).
But enough of that. This is a book site. Time to cut the crap and get to my fave reads . . . .
BEST BOOK
The Glorious Heresies
BEST DEBUT
All the Ugly and Wonderful Things
BEST STABBY STABBY
Alice
BEST LIL' BIT A CHICKENFRIED
Big Maria
BEST YOUNG ADULT
The Serpent King
BEST ROMANCE
(I'm picking two 'cause I do what I want)
The Hating Game
and
The Mother Road
BEST PORNO
Too Late
BEST SCI FI
Dark Matter
BEST SMARTY FARTY SELECTION
The Underground Railroad
BEST SHORTY SHORT
Burrito
BEST PITCHERBOOK
Red-Blooded American Male
BEST THING I NEVER EVEN KNEW I WANTED 'TIL I READ IT
Nine Minutes
(So fugly that cover is. Ignore it. Also, this isn't a porno even though the fug cover looks like one.)
BEST PLEASANT SURPRISE THAT I WAS SURE MY GRINCH HEART WOULD HATE AND DIDN'T
A Man Called Ove
WORST OF THE WORST
Behind Closed Doors