4 Stars
If you've read any of Adam Howe's previous works, you should recognize that this one starts off pretty much right where you'd expect a Howe story to start . . . . .
If you haven't . . . . .
Reggie Levine, ex-prize fighter and former Skunk Ape hunter is trying to move on after
barely
surviving his 15 minutes fame. Reggie just wants to live a simple life – find a good woman, buy a house, raise a kid or two - but when a local used-car salesman comes looking for help with his troubles . . . .
"Exactly what kind of trouble are you in?"
"The deep shit kind."
Reggie's conscience won't let him say no. Or maybe it's the offer of a free car. Tomato/tomahto.
Whatever the catalyst, thus begins an adventure you won't soon forget. Featuring a . . . . .
Chupacabra????
Some
unconventional
transportation . . . .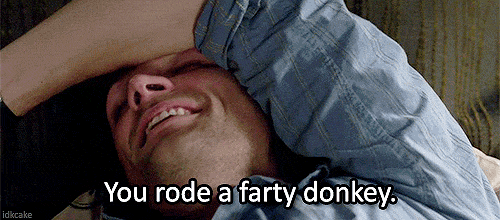 A hidden surprise . . . .
Cars a man could only dare to dream of owning . . .
As well as a villain who could have
only
been inspired by pretty much the worst creature anyone has ever met . . .
And a super classy potential love interest . . . .
Tijuana Donkey Showdown
is an action-packed, laugh-a-minute thrillride that will have you channeling your inner Ron 2.0 in the best way imaginable . . .
Filled with close calls and great escapes . . . .
This is a story that guaranties you will never look at a sign stating
"DONKEY RIDE - $5"
the same ever again . . . .
Now all I'm left to do is sit here and beg for
just one more
. And really, if Janet Evanovich can keep puking out Stephanie Plums and James Patterson can keep puking out . . . well pretty much everything I think it's A-Okay for you, Mr. Howe, to milk this magical gravy train at least one more time . . . .
P.S. I forgot to say there's a short included about the neighborhood Kwik Stop . . .
Yeah, we'll just go with that's what happens. *shudder*
ARC provided by the author in exchange for an honest review. If you choose to assume I'm a shill who would sell my rating for a freebie, that's on you. But you know what they say about those who assume, right????
They'll never be President . . . . or something like that.
P.S.S.
TOLD YOU I'D WORK THAT IN, HOWE!