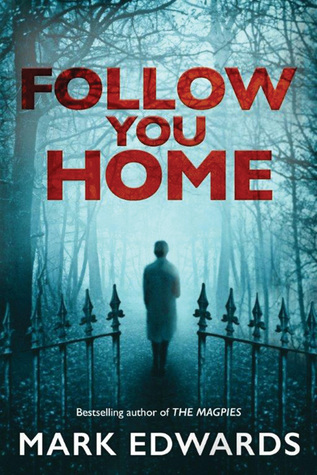 4 Stars


I discovered
Follow You Home
due to a stranger's review that popped up on my Goodreads' feed when one of my friends liking it. Looky there GR, your "upgrade" actually did something okay. You go
Glen Coco
Goodreads! Between the cover art, title, blurb and the fact the weather forecast was calling for cloudy with a chance of meatballs I was ready to dig in to a nice scary story.
Turns out this wasn't a horror but ended up being a thriller so well played, Mark Edwards. You got me good. Because of the aforementioned bait and switch things could have went
really notsagreat
. Surprisingly, I ended up quite enjoying it.
Alright, so the story is that Daniel and Laura are thinking about settling down and having children. Before they do so they are going on one last "hurrah" and taking an extended vacation across Europe via train . . . .
While traveling through Romania a poorly timed nap in an unlatched sleeping car lead to Daniel and Laura waking up to discover their passports have been stolen. A woman who the couple met briefly attempts to intervene and explain the situation to the authorities, but unfortunately that only leaves all three of them kicked off the train in the middle of the night. And that is only the beginning of a tale the two will
never
forget when they discover a house in the middle of the forest . . . .
Obviously lots more
stuff and things
happen, but SPOILERS so no thank you. If you are familiar with what Mitchell and I like in a thriller, you'll be happy to know our reaction to
Follow You Home
went sort of like this . . . .
And before my frenemy chimes in,
of course
the plot contained moments that had me saying . . . .
(The only thing Ron 2.0 loves more than plotholes is typos!)
But this was a real page turner and there were times I truly didn't know WTF was happening so it makes it a winner in my book.