3.5 Stars
This popped up on the "recommended you to" screen when I logged in to my library's website. It threw me off a bit because I've been requesting "book clubbier" books lately so I had to check it out. And what did I find???????? A story about a girl from the right side of the tracks and a boy from the wrong side of the tracks and how they fall in luuuuuuurrrrrrrrv. Well, that trope just makes me . . . .
Allow me to introduce our main characters. First up, the leading male . . .
"This is Alejandro Fuentes. When he wasn't hanging out on street corners and harassing innocent people this summer, he toured the inside of jails around the city, if you know what I mean."
And now, the leading lady . . . .
"This is Brittany Ellis. This summer she went to the mall, bought new clothes so she could expand her wardrobe, and spent her daddy's money on plastic surgery to enhance her, aheam, assets."
So basically we're talking about . . .
And . . . .
There's also a supporting cast of friends that are sometimes fairly hilarious . . . .
"You're like Danny Zuko in Grease. You smoke, you're in a gang, and you've dated the hottest bad girls around. Brittany is like Sandy . . . a Sandy who'll never show up to school in a black leather jacket with a ciggie hangin' from her mouth. Give up the fantasy."
As well privileged white boy boyfriend, but he's all . . .
Ewwwww. Pretend he doesn't exist.
Alright, so Brittany and "Alex" get paired up together in Chemistry because 'Murica is full of first world problems like not getting to pick a partner and being stuck with the person closest to you alphabetically instead. Y'all
know
what happens next – or eventually . . . . .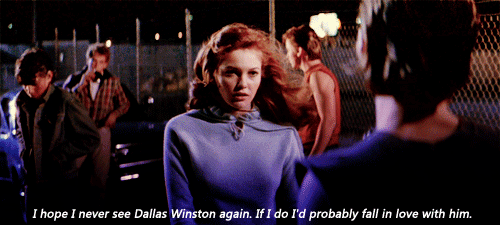 I give zero poops that this story has been done eleventy trillion times before. I will read it EVERY. SINGLE. TIME. It never gets tired for me and I love the "lesson" (if you can use that term when discussing a New Adult story) that is always learned . . . .
If you have a teenie bopper who is interested in delving into the world of romance but you're terrified he/she is going to go the
50 Shades
route, this is a good option. There is
one
sex, but it's fade to black style with no deets.
I'm giving this one 3.5, but rounding down because (1) the bet with friends about getting in Brittany's pants storyline was absolutely unnecessary and cheapened things just so there could be some manufactured drama and (2) if you use Chicago as a setting you need to know North Side and South Side are like opposite ends of the universe so the characters wouldn't ever meet at school (picky, I know, but I'm allowed since it's my review space).