5 Stars
"'It's a delicate operation I'm running here. Any man rocks the boat, he's going overboard.'

Or below deck, I thought."
An . . . uhhhhhhh
unfortunate incident
. . .
forced our MC to hightail it out of the city with no money to his name and minus a couple of fingers to boot. Ending up in a
"backwater tonk in the willywags"
it's soon discovered that he can play a right fine pianey which earns him a job and the moniker "Smitty Three Fingers."
Home of some world famous hooch and bare-it-all coochie gals, The Grinnin' Gator is quite the destination. Smitty discovers he's landed himself a pretty sweet gig. He has a roof over his head, is earning pert near city dollars even though he's back in the stix, and he's been lucky enough to stay on the owner's good side so he's not too worried about a close encounter with the resident badass, Big George . . .
Everything will remain gravy as long as he remembers he has
"sworn off dames for life"
. . . .
When I saw the title
Gator Bait
my mind immediately went in one direction . . .
Which, of course, morphed into something else . . .
Which led to . . . .
Which is pretty much like . . .
or #sploosh since I don't have a peen and all that.
Even though I bought it awhile back, I
finally
heard enough (I'll get to handing out the credit in a second) to get off my dumper and read the dang thing. At under 100 pages I really have zero excuse for being tardy to this party. If you're a fan of the ewwwww as well as some
seriously
developed characters and story all wrapped up in a tight little bundle, this one's for you. And the noir tone? Yummmmmmmm. Just like icing on the cake. Unfortunately Mitchell came across this quote . . .
"Big George's diet consisted mostly of chickens and rabbits . . . and once a PRIZED BOAR HOG . . . "
So he was out. He also demanded that I give it 1 Star, but I just shoved a sock in his mouth and found a replacement buddy to finish the read with me . . .
Frank Engator says 7 Stars (he's new at this reviewing stuff and how the Goodreads rating system works). He also sympathizes with ol' Smitty and his lack of digits since he suffers the same affliction. Should've kept your damn paws out of the honey pot, Frank!
Alright, now to give credit where credit is due.
Melki
gets a shout out and
Shayne
gets a shout out and
Susan
gets a shout out and
Paul
gets a shout out . . .
Your reviews reminded me that I should stop being a lazy pile. I also owe a thanks to the author himself who gave me the greenlight to gif the shit out of my review . . .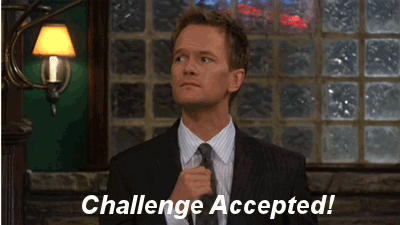 You write good stuff, Mr. Howe, and you've earned yourself a fan. At a buck (or free if you have Kindle Unlimited) everyone else should give
Gator Bait
a try this Stabtober as well.