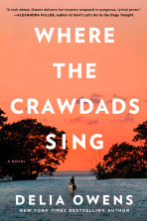 5 Stars
"I wadn't aware that words could hold so much. I didn't know a sentence could be so full."
I cannot imagine a book that will end up beating
Where the Crawdads Sing
for my best read of 2018. Truly, this was a case where the entire thing was practically perfect in every way for me (the only minor quibble I had was with the snippets of poetry, but that's because I hate poetry). Due to the fact that I am so absolutely strung out and hungover from this book, I'm going to do words even less well than I usually do.
The story here starts in 1969 with a dead body – and then it immediately timehops back to 1952. It's there you meet Kya on the day her mother has decided to up and leave the family and the marsh behind. Kya's siblings follow their mother's footsteps in short order – as does her father eventually. It's then that Kya becomes known as "the Marsh Girl" and the reader works their way back to finding out what exactly happened to that dead fella.
This was a true genre bender that had something for nearly everyone – coming of age, family strife, first love, first loss, and dare I forget – a potential murder. It was a modern day
To Kill A Mockingbird
and I feel so honored to have been approved for an advanced copy.
If you're looking for an epic tale that spans over five decades, look no further than . . . .
"Way out yonder, where the crawdads sing."
All the Stars there are to Star.
ARC provided by NetGalley in exchange for an honest (*cough blubbering cough*) review.
Thank you, NetGalley!