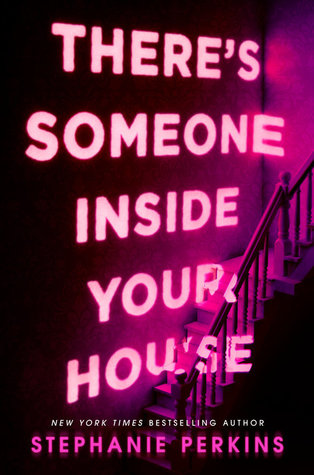 4 Stars
Words cannot even express the amount of joy it brings me when I am the first of my friends to read something. Well, when it's something I liked - being the one to burst the bubble when a highly anticipated release turns out to be a turd kinda sucks. Anywho, when I saw this blurb . . . .
"Scream meets YA"
I had much excite! But then I saw the next part . . . .
" in this hotly-anticipated new novel from the bestselling author of Anna and the French Kiss"
Oh noes. My experience with
Anna
was mucho baddo : (
There's Someone Inside Your House
is Exhibit A of why you shouldn't just throw the baby out with the bathwater when it comes to giving an author a second chance. This was everything I wanted it to be. Much like with
One Of Us Is Lying
earlier this year, the comparison to its "inspired by" or counterpart or whatever you want to call it was spot on. The only difference???
They say there are no more original ideas. And maybe that's true. (Except what
Shelby
just read about eating baby teeth – that seems pretty friggin' original.)
There's Someone Inside Your House
proves that an idea doesn't have to be original for it to be a crapload of fun. This one follows the slasher formula pretty well. There's a super baddy who just wants to . . . .
Well, maybe he wants to stab the shit out of you and mash your brains, but you get the idea.
There are oversexed teens who say things like "I'll be right back" and other stuff that shows they didn't take the sage advice of this fella . . . .
There's even a little humor when everyone should be in panic mode . . .
"Shit! What's your password?"
"9999."
"What? Why would you do that? Somebody could guess that!"
"You didn't."
Bonus was you weren't forced to spin your wheels for forever and a day before you found out who the killer was. The big reveal happened about the halfway mark – but that didn't stop the stabber from stabbing 'cause they still had to catch him/her/them (no spoilsies)! By the end of this I was like . . .
The only things missing? Matthew Lillard making me snortlaugh . . . .
Skeet Ulrich making me wanna get my freak on . . . .
And Gus Black's remake of More Cowbell . . . .
https://www.youtube.com/watch?v=KRjUQ...
Really, though, this was so much fun. Highly recommended to add to your TBR for your own . . . .
Endless thanks to my book bestie for the present. A jar of pee is on the way to you in return!