4 Stars
I picked up
Kaptara
for a multitude of reasons: (1) The liburrrrrry didn't have Howard the Duck; (2) John Waters blurbed it; and (3)
Sam
hated it. Now, I don't make a habit of requesting things Sam hates, but since he hates almost everything sometimes it happens. It also confirmed that I most definitely have the mentality of a 12-year old because I thought this was full of hardy-hars.
It started on the very first page . . .
Between the uniforms and the "get your pump on" commentary only one thing came to mind . . .
So it didn't end up being a story about an ambiguously gay duo, but I still chuckled at even non-funny things since my mind never leaves the gutter . . .
Turns out those asteroids are pretty bad mammajammas which cause the ship to crash on an alien planet where our MC Keith is nearly murdered by a dude named Skullthor . . .
Luckily a Khal Drogo looking mah fah is there to save the day and bring our MC Keith back to his queen . . .
Unfortunately, he's also joined by the queen's son . . .
And learns that Earth will be destroyed unless Kaptara does something about it. His reaction????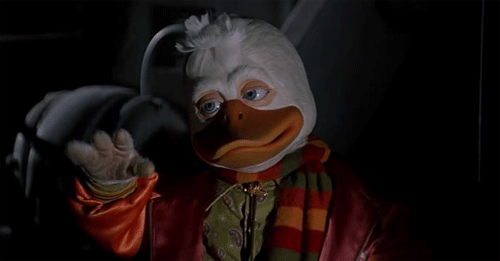 (
ORDER THE FARKIN' HOWARD THE DUCK ALREADY, LIBRARIAN!
)
Then some
stuff and things
happen that cause Keith to rethink things and join in on the good fight. He gets a chance to meet some of my relatives . . .
And turns tricks on them when they ask for help murdering Gandalf . . .
Other
stuff and things
happen, including Weekend at Bernie's references and an offer for a guy who looked like this . . .
To aid Keith's sleep by using his "love hand" . . . .
Oh god. I love lowbrow humor.
So you might lose a few brain cells while reading this, but come on laughing is good! It's summertime - Lower your standards and have some fun : )