1 Star
When I finished this book, the first thought that came to my head was . . .
Sadly,
Tear
was about the most vapid waste of time I've spent in recent memory.
HOWEVER
, with that being said let me tell you this cost zero dollars and is so far the only Rachel Van Dyken I haven't enjoyed. Okay, "enjoyed" might be a bit of an understatement. I had dabbled unsuccessfully in NA a bit before stumbling across
The Consequence of Loving Colton
. That book made me ask . . .
I've since read a couple other Van Dyken stories with nearly the same reaction, but this one? This was nothing but a baaaaaaaaaaaaaaaaaaaaaaaaaad
Twilight
knock-off.
Tear
is the story of Natalee – 18 years old and never been kissed. All that changes when brothers (and members of the band
One Direction
AD2) Alec and Dimitri transfer "far away from their homeland" (*cough Canada cough*) to her school (in Oregon) and she experiences an "intense exchange" when one of them retrieves her fallen pen . . . .
Yeah.
It doesn't take long for the other brother to single her out as well and then???? Well, what's a girl to do? I mean really who could blame her? These fellas fell straight out of a Men At Work song – all 6'4" and full of muscle. They also apparently doused themselves in some form of pheromone-containing cologne "probably Abercrombie" (which must mean they smelled like baby prostitutes) and Natalee got all . . .
The story then evolved into a very not healthy
AT ALL
tale about their bizarro love triangle and it was at that point I told my husband . . . .
Now, I'm not opposed to stories with love triangles and I'm not even opposed to a bit of unhealthy obsession in my romance (I freely admit I enjoyed
Twilight
just fine). I do, however, have a BIG problem with the female lead going from not being allowed to wear make-up (by 100% absentee parents, no less) – to being allowed to sleep over at the rockstars' house, to being unsure if she would be able to say NO when necessary because "every time I was in his arms I felt wanted." Just no. Not to mention Brother 1 was a rapey über creep. In MY OPINION Natalee should have had a couple of dates with him until his true personality was exposed and then jumped ship into the arms of Brother 2 without all of the back-and-forth drama llama bullshit. Instead, the entire story had me saying . . .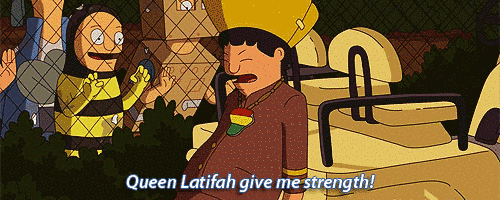 Sorry Ms. Van Dyken that I had to 1 Star your book. Good news is I'm still anxiously awaiting the release of
The Consequence of Seduction
. Hopefully this didn't put me on the naughty list. And just in case the big guy is reading this . . . .