4 Stars
By this point hopefully you're all familiar with the Belcher family – specifically the children . . .
Luckily they are pretty good at storytelling.
Bob's Burgers: Medium Rare
features several tales by each of the kiddos.
Louise's stories are full of adventure . . .
(If you didn't know the correct answer to the above is "a butt" you might not be qualified to read this selection)
and include a trip into a mysterious tunnel discovered in the restaurant's basement, to a Wonder Wharf ride that may just interrupt the time/space continuum, to the search for ingredients to make the perfect burger of the day . . .
Gene lets everyone in on his secret double-life, as well as retells a couple of classics like Genederella, and a little story involving a trip through a crazy cat lady's closet . . . .
There are even cameos by some superfan faves . . .
Which brings us to the most famous Belcher of all . . .
In case you don't know, I might have a bit of an unhealthy relationship with the eldest Belcher child . . .
Tina's erotic friend fictions include Tina utilizing a cloning machine that was invented for the science fair in order to make some back-up dancers for Jimmy Junior, Jungle Tina, Tina Bond and Tinablanca. Each of the above focus on the most important things in life . . .
Tina Belcher, you're my hero . . . .
Even though my kids would say I'm more like Linda – because of . . . .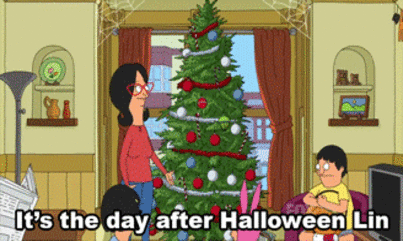 REASONS
.
I do have to admit as a mother I really appreciated "Linda's Attempt to Take a Nice Family Picture in Front of the Restaurant (and How it Always Goes Wrong)."
The art remained true to the television program and the variant covers were
really
something to write home about . . .
Especially when they pretty much are example of what your own home
does
look like.
My friend
Brea
turned me on to this little beauty sitting on NetGalley as a "Read Now" selection. I'm not much for reading e-versions of comics, but Bob's Burgers definitely deserved to be an exception to the rule.
ARC provided by NetGalley in exchange for an honest review.
Thank you, NetGalley!