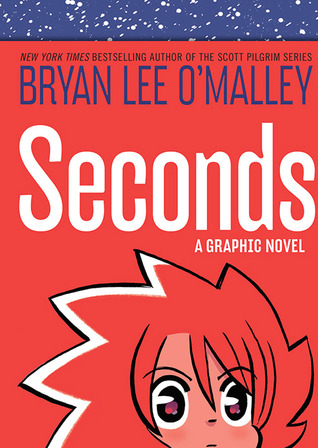 3 Stars
What could possibly go wrong with eating a random mushroom left for you with those instructions? Katie should have probably asked Alice about that . . .
Actually, in Katie's case the magic 'shroom simply gives her a chance at a "re-do." And boy could Katie use one in order to get the renovations on her dream restaurant back on track and stop just being the chef at Seconds. Unfortunately, when a waitress gets badly burned Katie uses her "do over" in order to prevent
that
from happening. Luckily for Katie she finds a treasure trove of these delicious little morsels growing under the floor. If changing
one
thing worked out fine then changing
everything
she doesn't like about her life should be great, right?
This was a pretty enjoyable way to spend my coffee time on Saturday morning. The story was interesting throughout, the "Revisions" were sometimes hilarious . . .
(I mean, who doesn't laugh at a good diarrhea scene, right?)
And I love O'Malley's art. You're either going to be a fan of his "cartoony" style or not and I'm a fan . . .
The only downside? All that restaurant talk made me a hungry hungry hippo. Mushroom risotto, mmmmmmmmm. It also made me think of all the times Brad Pitt eats in movies. That boy has got a purrrty mouth . . .