2.5 Stars
Let me begin with some . . . .
I say it all the time that my reactions to books are based 99% on timing. I could read something one day and give it 5 Stars but would have 1 Starred and raged out if I read it a month before or after. I'm also
extremely
hard to please when it comes to romance novels so 2.5 Stars actually ain't half bad. The biggest problem I had with
If You Don't Know Me By Now
(aside from the title – WTF does that title have to do with the plot??? Answer: ABSOLUTELY NOTHING) was that I had read
Ugly Love
only a few weeks before and it was just so much better.
That's a side effect of using the all-too-family-tired-trope – your stuff will end up getting compared to the work of others.
If You Don't Know Me By Now
has a couple of familiar themes – the first being that of the girl who moves to the city with big dreams (in this case Imogen dreams of being a successful writer), but has to settle for a crap job in the meantime . . .
However, Imogen finds that as a barista she gets
plenty
of inspiration for what to write about. With the encouragement of fellow coffee slinger Declan (we'll get to him in a minute), Imogen starts a blog . . . which of course
immediately
goes from zero hits to eleventy trillion . . .
Just go with it. Now let's get back to Declan and tired trope #2 – the "manwhore who isn't looking for a serious relationship but still wants to bang." Even though Imogen has pretty much
nill
in the department of sexytimes experience she decides to give no-strings-attached lovin' with Declan a whirl. You know . . .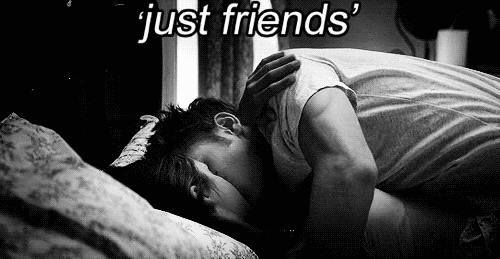 Right. Friends . . .
Y'all know how this turns out, right?????
followed up by a HEA and some more of this . . .
All in all this wasn't a
bad
book. As farfetched as the idea of someone starting a blog and ending up writing a column in a nanosecond was, I found the entries to be witty and pretty spot-on with respect to entitled customers. This one also featured fade-to-black PG-13 kind of lovemaking, which worked just fine for me. I never quite fell for Declan (mainly because he was in a band that probably sang songs like this . . .
#puke)
but I thought the twist of why he was such a smarmy commitment phobic chick banger was interesting and not something I've read to death already. I just wish it wouldn't have been glossed over so quickly.
ARC provided by NetGalley in exchange for an honest review.
Thank you, NetGalley!