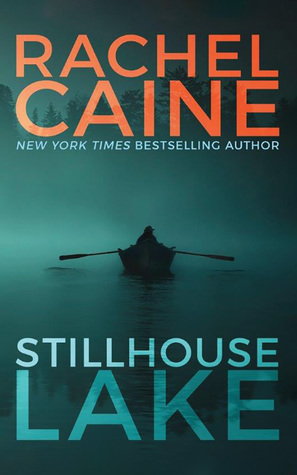 3.5 Stars
Gina thought she had the perfect life. Happily (enough) married to Mel, mother of two, she was a real Suzy Homemaker. That is, until a drunk driver crashed into their garage and uncovered her husband's little secret . . . .
(Mitchell still can't figure out why Gina would be upset about discovering she was married to the perfect man.)
Anywho, fast forward a year where we meet the new and improved Gina . . . .
Now known as Gwen, she was cleared of all charges when it came to her husband's hobby. Thanks to some
really
obsessed internet trolls (y'all think it sucks to get told how you read wrong, you should try to walk in Gwen's shoes for a second), Gwen and her children have changed their identities and locations four times and Gwen knows how to blow your head off with whatever gun she pulls out of her arsenal. Things seem to be settling down on the psycho front and Gwen has finally started to plant some roots in a quiet little locale known as Stillhouse Lake, Tennessee. That is until a surprise pops up in the lake that has everyone pointing the finger at "Melvin's Little Helper" . . . .
If you haven't figured it out yet,
Stillhouse Lake
is without a doubt 100% a Lifetime Mystery Movie of the week. Save your holier than thou. Sometimes these stories are exactly what I need and after reading two
really
good mysteries, I needed to embrace my inner . . . . .
(that's a basic white girl starter kit, if you aren't familiar) and read a different kind of thriller.
I have been a fan of Rachel Caine since I read about eleven thousand of her
Morganville Vampire
books back in the dizzy when I was in love with all things teenage vampirey . . . .
Put one of those in front of me today, I'd probably gobble it right up. When my friend
Casey
book pushed this on me (and Casey
NEVER
book pushes on me), I knew I would not be able to resist. I even spent my own dollars on it when the pornbrarian failed to order it for me in a timely fashion proving that miracles do happen – but you should've seen all the moths that flew out of my wallet! Wowzers!
If you're okay with suspending disbelief and simply want a decent read that will keep your interest and you will speed through,
Stillhouse Lake
might be a winner. Really my only complaints are that I immediately knew who did it – like literally at the first word out of his mouth . . . .
[I TOTALLY NOTED THIS, BUT GR ISN'T SHOWING ME MY EFFING NOTES SO I CAN'T TAKE A SCREEN GRAB!]
And how often Gina/Gwen jumped on the "everything is worse for me because I'm a woman" bandwagon. Uhhhhh, no dipshit – everything is worse for you because you are a fucking idiot who thought it wasn't weird to not be allowed in part of your own goddamn house . . . .
Other than that, though, this was pretty fun.
Book #2 in the Winter Reading Challenge. I'm getting closer to you, pretty red coffee mug : )