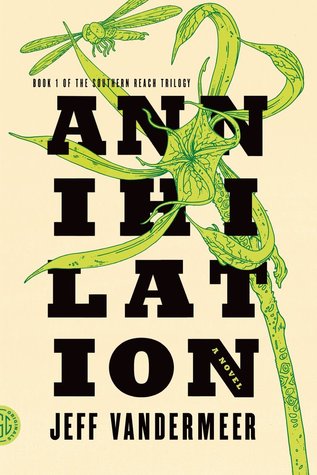 3 Stars
"We all live in a kind of continuous dream. When we wake, it is because something, some event, some pinprick even, disturbs the edges of what we've taken as reality."
Welcome to the place that lies outside of Trump's wall that Mexico paid for. It is known as Area X . . .
"Our mission was simple: to continue the government's investigation into the mysteries of Area X . . . We were the twelfth expedition."
After my failure yesterday I was looking for a palate cleanser.
Annihilation
was not only due back to the library today, but it was really short so I knew even if I ended up hating it at least it wouldn't be much of a time suck. Unfortunately for all y'all this is a story that not much can be said about without ruining the whole thing. I'm going to leave it with the following: (1) if you don't like world building, stay the eff away because this sumbitch is nothing but, and (2) if you hated
Bird Box
you'll hate this too. For me? Well, my reading experience last night looked a lil bit like this . . .
If you decide to give
Annihilation
a go, I highly recommend clearing your schedule and reading it in one sitting. I read three-quarters last night and then my family came home and expected me to like talk to them and stuff (how rude, right?). When I picked it up again this morning, the creepy factor had definitely lessened and my rating dropped. All in all, however, it was still decent. I also
really
appreciate the fact that although this is part 1 of a series it worked perfectly fine as a stand-alone, leaving me with zero regrets about maintaining my stance on not reading past the first book.
I decided to give Annihilation a go based on my friend 11811 (Eleven)'s rating. See that Goodreaders? When you really get to know what someone likes/doesn't like they don't even have to write words to make you add their latest reads to your TBR. Thanks Eleven!