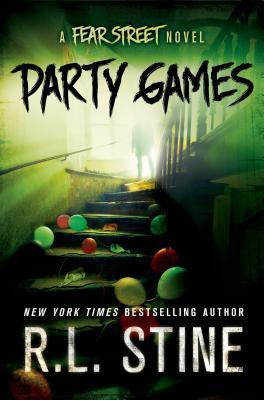 1 Star
THIS REVIEW WAS INSPIRED BY THE TROLL WHO TOLD ME THAT USING TOO MANY GIFS MAKES ME APPEAR CHILDISH AND I SHOULDN'T BE TAKEN SERIOUSLY. THE FOLLOWING SHOULD CONFIRM THAT I AM INDEED CHILDISH AND NO ONE SHOULD TAKE ME SERIOUSLY.

I know that out there
somewhere
there is
someone
screaming at their computer "HOW DARE YOU GIVE R.L. STEIN A 1 STAR RATING. HOW COULD YOU?!?!?!?!?!" Well, I'll tell you – it was actually pretty easy being as the book was
terrible
. I picked this up over Halloween week thinking it would be fun to read a blast from the past. Sadly I was wrong. Now I know you're thinking I didn't like it because I'm too old, but I'll tell you what - I read way more than my fair share of YA books and tend to enjoy them. You know what the problem was with
this
particular selection????? It's due to something I like to call "the cheese factor".
The idea behind
Party Games
was a good one … Rachel (the not-so-popular girl) has had an eternal crush on Brandon (the ever-so-popular boy). When Rachel gets invited to Brandon's birthday party at his family's vacation home on nearby Fear Island she is sooooooo in. That is, until guests start dropping like flies and the partygoers find themselves trapped on an island with a murderer.
I was hoping
Party Games
would be a younger version of
Harper's Island
or maybe a less gruesome version of
April Fool's Day
(obviously I only watch award-winning movies). What I got instead?
Yep, full on cheese in a can. There was so much cheese in this story I was afraid I would develop a problem like my former buddy Chester . . .
Luckily I was able to finish the story before it was too late. What was wrong with the book? Mainly the juvenile writing style. I realize this was a YA selection, but the story was sooooo dumbed-down it was almost insulting. The plot was also completely predictable (again, just because your audience is young, it doesn't mean they are stupid).
It needs to be noted that my house is FULL of R.L. Stine books. I thought my kids would
love
the
Goosebumps
stories and bought them all. It turns out neither of them are fans either. When I finished
Party Games
I asked why they didn't like Stein's books and the answer was:
Yep, too cheesy even for kids. What a bummer : (