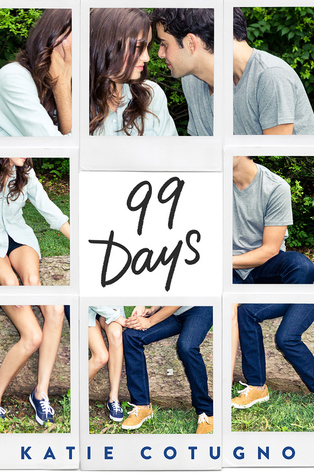 3 Stars
A story about a love triangle? And I
liked
it? I'm pretty sure I'm going to Hell for this one. Let me check the good book to make sure . . .
Yep, the Bird Bible says I should get my handbasket ready 'cause I'm going to burn for eternity.
99 Days
is the story of Molly Barlow and the Donnelly family who have been friends forever. At some point Molly's playdates with the Donnelly sister, Julia, and her two brothers . . .
morphed into a
different
sort of playdate with Patrick Donnelly. The two were a couple forever, it seems . . . . Until Molly started thinking about attending a boarding school that was offering her a running scholarship, Patrick decided to break things off, and Molly found herself falling into the arms of Patrick's brother, Gabe, for comfort.
I know, right? Everyone else is probably already hating this. Buuuuuuuut, in Molly's defense . . .
and she quickly realized she had made a
huge
mistake. Molly thought her little snafu would be a secret she and Gabe kept forever . . . until her author mother decided to steal a little "inspiration" from her daughter's situation and penned a bestseller that outed
all
the details to the world. Molly fled town, choosing to attend boarding school after all, but now school is done and there are 99 days before college begins. She finds herself back in the same small town, still hated by Julia Donnelly and still caught in the middle of the two brothers . . .
I get that
a lot
of people aren't going to like this book. I really do. There's a good chance that I could have not liked it if I had read it at any other time, but things worked out the way they did. I had a real crappy week and needed something fluffy to get me through it.
99 Days
happened to be at the right place at just the right time. And while I won't say that it had quite the same amount of magic that
How To Love
had, there's just something about Katie Cotugno's writing and I
really
dig that she is willing to be so up front and
just go there
with taboo subject matter in YA romance stories. I've read enough of the "who will she choose" B.S. plotlines like in
The Hunger Games
and
Twilight
and on and on and on where the boys all sit around and wait for the girl to decide. I was soooooo ready for the ugly truth of what happens when a person decides to "dip their toes in a couple of different swimming pools," if you will.
99 Days
dealt with the love triangle issue in such a realistic way. Molly realized she was a selfish butthole and knew things would eventually blow up in her face . . . but she couldn't stop herself from having feelings for both brothers. And you know what? I liked it.
ARC received through Edelweiss in exchange for an honest review