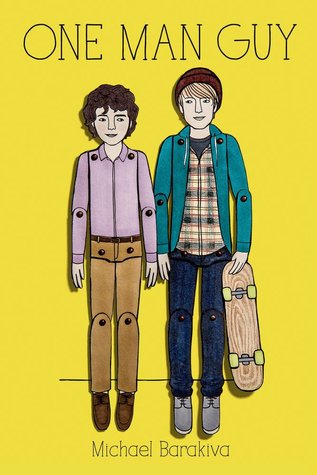 2 Bummed Out Stars
I haven't been privy to such a horrible bunch of Armenian-Americans since . . .
Sorry. I can't : (
THIS REVIEW GETS A BIT SPOILERY, SO READ AT YOUR OWN RISK
I had super high hopes for
One Man Guy
. I
love
that YA books about coming out/being homosexual are becoming more prevalent. These stories and characters are LONG overdue. After reading the synopsis, I thought for sure I would love this little book much like I did with
Two Boys Kissing
last year. And it started out okay – the pace was quick, the writing was decent and the budding relationship between Alek and Ethan was, for the most part, totes adorbs. (One complaint? Alek is 14, goes from not being sure if he's gay to 100% full on gay, making out, taking clothes off, etc. with an older/more experienced boy. Young people – it is okay to be confused about how you feel about people of the same and/or opposite sex. Just 'cause someone makes the butterflies flutter in your tummy it does not mean you have to rush into anything.)
Unfortunately, when it came to my enjoyment of the book as a whole I found I could not get past the scenes with Alek's parents. The duo (mainly the mother) presented
THE WORST
stereotype of nationalism I've seen in ages. I spent so much time rolling my eyes into the back of my head due to their over-the-top buttholery with regards to their feelings of "these Americans" that it overshadowed what was supposed to be the
real
plot. I'm 99% sure this was done intentionally in order to point out that being gay isn't a problem, but having jerks for parents sometimes is. However, after spending so much time showing the reader examples of how the parents are always disappointed in Alek and how they hate nearly
everything
, when Alek gets caught in a compromising position that forces him out of the closet they're A-Ok with it all . . . except for his choice of boyfriend. Srsly???? I highly doubt that would have been the case.
Other positives about the story aside from the aforementioned? A most awesome best friend in the form of a rollerblading, Diet Dr. Pepper swilling, gal-pal named Becky and THE. BEST. Soundtrack in the form of Rufus Wainwright . . .
"People will know when they see this show
The kind of a guy I am
They'll recognize just what I stand for and what I just can't stand
They'll perceive what I believe in
And what I know is true
And they'll recognize I'm a one man guy
Always was through and through"