2.5 Stars
Indy has been in love with her best friend's brother Lee ever since she was a wee little girl. When she was a teenager she threw herself at him (pretty much literally) for the last time. That's when he told her she was like a sister to him. For the past decade, Indy has avoided Lee as much possible, but has never fully been able to due to their families' combined celebrations of birthdays/holidays/generic Sunday backyard BBQs, etc. When Indy finds herself in a real pickle featuring one of her employees (who just happens to be everyone in town's favorite coffee guru) and a bag of diamonds, Lee plants himself firmly in her life. She also finds out when it comes to how he used to only view her in a "sisterly" manner, that . . . .
"That was then, this is now."
This had soooooo much potential. If you're like me and have suffered through eleventy thousand Stephanie Plum stories, but can't quit because they are your crack, you would have probably been all giggly schoolgirl upon starting this one too. Basically, Indy is a moron just like Stephanie. She gets kidnapped and blown up and shot at, etc., etc., etc. The difference here? SHE BANGS RANGER. Now, it takes a while to get there, but Lee is totally Ranger and they totally bang. (And you can just go ahead and spare me if you even are thinking of getting pissy and saying this isn't like the Evanovich series because Kristen Ashley has in her mothereffing BIO that Evanovich is one of her inspirations.) So what went wrong?????
Ashley should have taken a bit more inspiration from Evanovich and realized that there was not enough story here for 400+ pages. I can get over the
very
loose "Rock Chick" gimmick – seriously girlfriend listened to rock music, wore denim miniskirts, bangles and big belt buckles and had a claim to fame of getting a little handsy with a guitar hero . . . .
To say the "Rock Chick" moniker was a bit of a stretch is the understatement of the year. Oh, and let's talk about those clothes . . . .
Good Christ, I don't need a description of every godblasted outfit the woman wore each day. There's an old saying: "the devil's in the details." If that's true, then Old Scratch must've had a front row seat during the writing of this one.
Some of you are probably asking why didn't I just cut bait and DNF instead of letting it annoy the shit out of me for nearly three days? Well, because (1) KA really triggered the ol' sploosh zone for me with
one of her previous offerings
, (2) this one had some of the aforementioned things going for it as well as having a pretty LOL-able bad guy . . . .
Think I'm kidding????
"He was short, had to be in his fifties and had jet-black hair with white at each temple. He looked like what I would guess a young Grandpa Munster would look like, except a lot more creepy and definitely scary, but not in a comic way."
(3) It made me chuckle a few times. Not only because Indy was a loveable idiot, but also because of stuff like this . . . .
"Wear sexy panties tonight," he said against my mouth. "I don't have any other options except commando." Lee's arm tightened spasmodically right before he murmured, "Christ."
Not to mention (4) I was not blessed with the ability to not finish something. Mainly because . . . .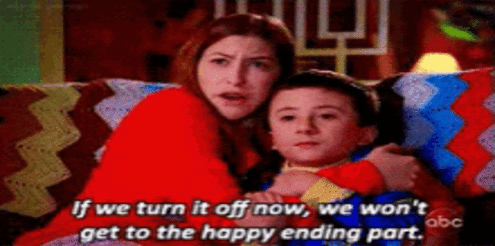 It probably goes without saying that I won't be continuing on with this series. I'm sure that won't hurt Kristen Ashley's feelings one little bit since she has a mass of fangirls. Seriously, I don't know how y'all do it. I get that these are self-pubbed, but for Jeebus' sake at some point you have to . . . .
I can't imagine the eye twitch I would develop if I managed to get through SEVEN more (FFS!) of these things.