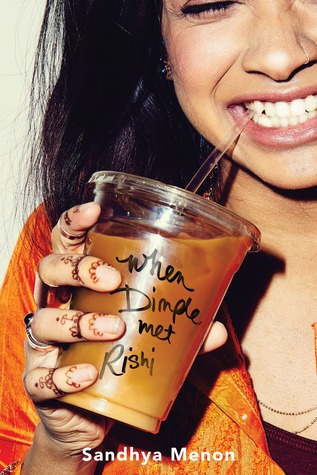 4 Stars
All Dimple can think of is venturing out on her own and out from under her mother's thumb (as well as her search for the I.I.H. or "Ideal Indian Husband") by heading to Stanford. Even better is when she gets a six week headstart to participate in Insomnia Con . . . .
All Rishi can think of when he gets to Insomnia Con is an arranged future with someone who is guaranteed to provide a "long, sustainable partnership."
Which leads us to the inevitable Dimple and Rishi
not so
meet/cute . . . .
"Hello, future wife," he said, his voice bubbling with glee. "I can't wait to get started on the rest of our lives!"
That has Dimple thinking something along these lines . . . .
Except, ya know, actually throwing her drink in the face of this rando strange and his creepy marriage-proposal-at-first-sight nonsense.
But since this is a rom-com the two
obviously
meet again, and are paired up to develop an app together which is the entire point of Insomnia Con, and eventually come to the realization that although there isn't such a thing as instalove in real life, there most definitely is sometimes . . . .
And then somehow everything culminates in a talent show . . . .
Which shouldn't work, but by the time you get there you've eaten so many unicorn farts that you are like "OF COURSE THERE IS A GODDAMN BOLLYWOOD DANCING SCENE! THAT'S TOTALLY NOT RIDICULOUS™ AT ALL!!!"
If this is on your TBR, go in knowing this is simply a book that will make you say . . . .
I didn't realize this was so polarizing, and I really can't explain why. Some people might expect more than just fluff from their fiction. Some people enjoy hate reading/reviewing. Some people get offended by nearly everything. At the end of the day (unless you are the author worried about making that bank, yo) does it really even matter????
If you (or your teenager) is looking for something cute and sweet with no angst, a leading lady who (thank the tiny 8 lb. 6 oz. Baby Jeebus) isn't a manic pixie dream girl and a leading male who makes you want to watch allllllllll da Dev Patel movies – this might be a winner. Or not . . . .
I liked this one enough for several people.
Many thanks to my book fairy for the gift!