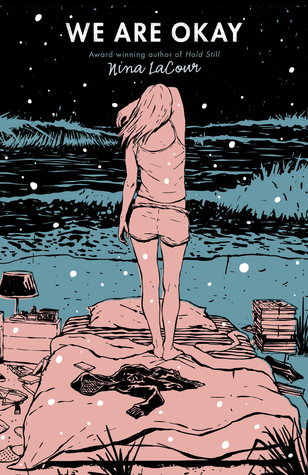 2 Stars
Over the past week I've been bombarded by Goodreaders who are angry I don't drink the NA Kool-Aid which will force me to 5-Star books that don't even have a release date yet as well as young humans who can't understand why a person would ever 1-Star something by their favorite YouTuber. In an attempt to prevent further butthurt (since it appears I kinda sorta read this one wrong as well), allow me to post the following disclaimer:
First things first, this cover is so freaking perfect that it made me hesitate requesting a copy of
We Are Okay
from the library. Why? Because I assumed it was a graphic novel and my current schedule is pretty much only open to Kindle reading at the moment – proving once again . . . .
Per usual, I didn't read the synopsis before starting, but even if I had I think I would have had a rough start. At first I thought the "tragedy" being referenced was going to be of the rapey variety and, pardon me, but rape being turned into a tired trope pretty much makes me want to barf. However, I'm no quitter (or more like I am missing the gene that would allow me to quit) so I continued on and basically ended up reading what amounts to be a pretty standard story of a young woman transitioning into adulthood via her first year far away from home. She's lonely, she doesn't know what she wants to be when she grows up, she's having a bit of a hard time making new friends, she misses the high school love interest she left behind but isn't sure where they stand. The only thing that makes this different from many teens' transition to college is that she suffered a loss on top of everything else.
The plot is fairly simple without a lot of action. It does the wibbly wobbly between past and present and, for me, the past were the parts that held my interest. I think most people who love this one will love it due to the writing . . . .
"Someone always dies. It's just a matter fo who, and when. You remember her with songs, with shrines of shells and flowers and beach glass, with an arm around her daughter, and later, daughters of your own named after her."
For me, though? It was just . . . .