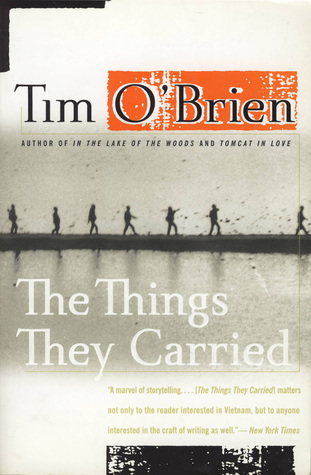 4 Stars
"You can tell a true war story by the way it never seems to end. Not then, not ever."
I had every intention of reading this on Memorial Day, but once I started I began having feelings and y'all know I try my best not to ever let that happen so I put it on the backburner. Buuuuuuuut, since the library's Summer Reading Challenge is all about pushing your shelf, I knew I was going to have to finally bite the bullet and read this one.
The Things They Carried
isn't really anything most people of a certain age haven't experienced before. If you are of the dinosaur generation, you've probably seen most of the content contained in this collection of vignettes a time or twelve on the big screen over the years . . . .
That's not to say it is a book that should be skipped. It earns its spot on the "100 Books To Read Before You Die" list as well as every one of the 4 Stars (and a nearly unheard of
4.41
collective Stars amongst my friends) I'm giving it. This book is brutal, and nauseating, and horrifying and most definitely serves as a reminder that . . . .
"War is hell."
But maybe that's exactly what people need to remember. People like most of us who sit safely on our couches and question whether or not we're watching "fake news covfefe" on a nightly basis while others who are barely more than
children
are the potential pawns in a grotesque game of chess.
The Things They Carried
should be a required read for all because if you can't stomach reading about it, you need to be paying attention to who you are voting for in order to make sure you don't force a new generation into reliving it. A generation made up of people like this young man, who did what his country asked and fought in the Vietnam War, but was never the same again upon his return . . . .
I think of you almost every day and this book was almost impossible for me to read because of it.
Book #2 of the "Push Your Shelf" challenge. I will definitely fill this glass with beer and raise it in memoriam of my uncle once I receive it.