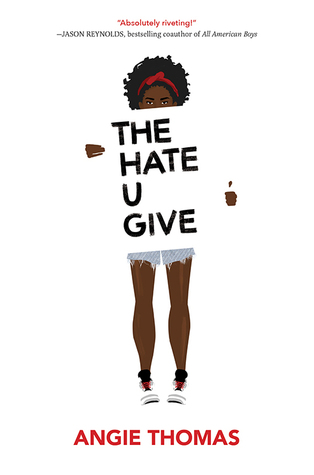 4 Stars
"Once upon a time there was a hazel-eyed boy with dimples. I called him Khalil. The world called him a thug."
Starr's parents have always tried to do what's best for their children, as well as their community. While the family has maintained resident, as well as a corner store, in the inner city – Starr and her brothers get dropped off for school every morning out in the 'burbs in order to give them the best chance possible at a better life when they grow up. Living in two different worlds isn't easy when you're a kid, and reality comes crashing down in a monumental way when Starr witnesses her childhood friend Khalil get shot to death by a police officer during a routine traffic stop. As the investigation into the incident progresses over the course of a few weeks, Starr begins to learn more about her community, about her friends, about herself and about the meaning behind Tupac's lyrics . . . . .
"Listen! The Hate U – the letter U – Give Little Infants Fucks Everybody. T-H-U-G L-I-F-E. Meaning what society gives us as youth, it bites them in the ass when we wild out. Get it?"
While this one wasn't quite as impactful for me as
All American Boys
,
The Hate You Give
is most definitely a book I believe young people should be reading in school. Especially kids in the suburbs who are privileged enough they don't have to be told things like . . . . .
"Keep your hands visible. Don't make any sudden moves. Only speak when they speak to you. Get a good look at the cop's face. If you can remember his badge number, that's even better."
The only "complaint" I have about this book is that it won't age well. Pop culture references that have already become uncool . . . . .
Or that weren't ever cool (even when the oh-so-attractive Cam Newton invented it) . . . . .
Are almost a guaranty to have readers dismissing the very important lessons to be learned. Mainly . . . . .
"At the end of the day, you don't kill someone for opening a car door. If you do, you shouldn't be a cop."
It shouldn't take a friggin' rocket scientist to figure that out.