3 Stars
I requested this from the library for one reason and one reason alone: People kept comparing it to . . . .
Some of you are probably thinking "lord that story has been done to death" – and I would agree 100%. It never gets old for me, though. I love reading about the battered wife who makes what she believes is her great escape in the night only to have the wife beating ex return saying things like . . . .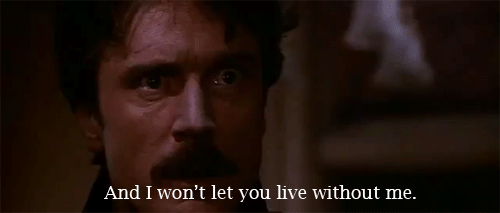 Whereupon she unleashes her inner badass and goes all . . . .
Nothing like a good ol' revenge story to really get my blood flowing.
I had a feeling this one might not be so great for me going in due to my hit and miss history with Chevy Stevens' stuff. Also, being that it was a "psychological thriller" I knew from the get-go it wouldn't ever dare to go in the direct, realistic way (seriously authors – go in the direct way every once in awhile – sometimes it's the only way that makes sesnse). I'll avoid spoiling things, but it was
TOTALLY
obvious who was the bad guy and I kept yelling things at my Kindle like . . .
And making notes to myself like "this bitch is fucking whack-a-doo – jumping from one guy to the next while being the worst mother in the history of the universe" and also really eloquent things like . . . .
And "if it has been this obvious the whole time I'm going to blow up a building" because me = . . . . . .
This one ended up taking me longer to read than usual, but work was also a giant dickface last week so maybe that had something to do with. I can say I never once thought of putting it aside for something else and people like
debra
and
Deanna
who are way nicer than me (well, pretty much everyone could fall into that category) were able to pull an Elsa and let it go let it goooooooooo and just enjoy themselves where I couldn't. It's pretty apparent I won't ever be able to break up with Chevy Stevens since I continue to hope she has another
Still Missing
in the tank.