4 Stars
If you know me you know that I'm not a real big television watcher, but when I go in on something I. GO. IN. I loved Parks and Rec from the second it made it to air. I fell hard for Amy Poehler immediately upon her joining the cast of SNL and watched her in movies like Baby Mama, Deuce Bigalow and Blades of Glory until my DVD player committed suicide. There was no chance her new show wouldn't be one of my favorite things ever. I was right. What I didn't realize upon tuning in was that a woman who didn't even have a speaking part the first season would wind up being my spirit animal.
Donna Meagle had me at the first side-eye she ever gave to her co-workers . . . .
It was her job to break the fourth wall – sans words – and she was GREAT at it. When she was finally allowed to speak? She ended up being pretty much me both professionally . . . .
As well as how she spent her free time . . . . .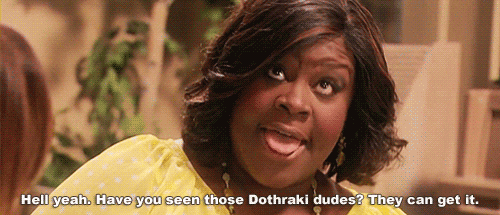 And her attitude toward the internet? Samesies . . . .
Before she and
Tom Haverford
Aziz Ansari received the cult following which was created via "Treat Yo Self" – they had an exchange that somehow
still
strikes me as hilarious every single time I watch it . . . .
Tom Haverford : You can't say your favorite kind of cake is birthday cake, that's like saying your favorite kind of cereal is breakfast cereal.

Donna Meagle : Mmm. I love breakfast cereal.
https://dubsmash.com/quote/parks-and-...
Why is that so funny????? Because Tom and Donna are television magic, that's why.
Speaking of magic? I found Retta over on the 'Gram shortly after joining last year (I know, I know, I'm super late to the party). My favorite part of the day has become watching her make her cup of Dark Magic and singing a rendition of "Good Morning – Good Morning!" to me. And yet I was denied this ARC. Go figure, right?
Anyway, I don't know if everyone will love this or if you just have to be nuts like me. Good news is, Retta herself is 100% relatable and she is more than happy to share deets regarding things like meeting famous people at various award shows and parties, slamming trolls on the web and becoming a Hamilton superfan . She is hilarious, her delivery is everything a fan could dream of and more and she has a fabulous potty mouth to boot. If you like something light for your daily commute, this might be a winner.