2 Stars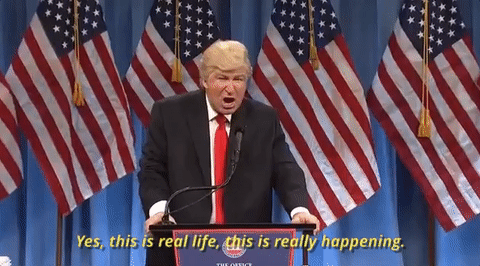 To say my expectations may have been set a bit too high when it comes to this release might be the understatement of 2017. Little did I know that by the time I was able to get my hands on a copy, what had been so hilarious to watch on SNL throughout the campaign and during the early days of the administration . . . . .
Would start to lose its charm when the world was faced with tragedy and we learned that we elected someone who could not even pass a civics test . . . .
Who definitely did not have "the best words" when it came to the #metoo movement . . . .
And who believes there are "good people" who belong to the KKK/neo-Nazi organizations, but twists everything a day or two later to fit the rhetoric that the knuckle-dragging 30% who still approve of him want to hear . . . .
Last week the Fake News posted a quote from Senator Lindsay Graham that there's a 70% chance The Donald would wage war on North Korea if there's another nuclear missile test or 30% unprovoked. It's kind of hard to laugh at this point . . . .
The least they could have done was try to keep some of the gems they hired for that drained swamp around for laughs . . . .
Instead of replacing them with less funny humanoids in the revolving door which is this presidency.
Maybe if someone had taken Trump's phone away from him, I would still be able to think of this book as a parody. Sadly, that isn't the case. Even sadder is that I turned in the paper version thinking the audio would be the way to go, only to discover Alec Baldwin reads about a third of the thing. Your mileage obviously may vary, but Trump has so out-Trumped himself at this point that there's a good chance (if he knew how to write in more than 180 characters) that he could have penned this himself.
At this point all I can say with regard to Trump family parodies that bring the funny is: THANK GOD FOR ERIC!